I am interrupting this regularly scheduled podcast to share a recent story of kindness. Each week we share others stories but this week I thought I would share something that happened to me a couple weeks back. As many of you have seen on the national news that recent snow storms hit our local LA mountains, the San Bernardino Mountains.
My husband's family has had a home there for years and it is a very special place for us. We don't spend much time at the lake in the winter but it is always a treat to get away. When we had a call that there was water left on in the house, we decide to make a quick trip up. The thought of bursting pipes with freezing temperatures and a pending storm was big motivation.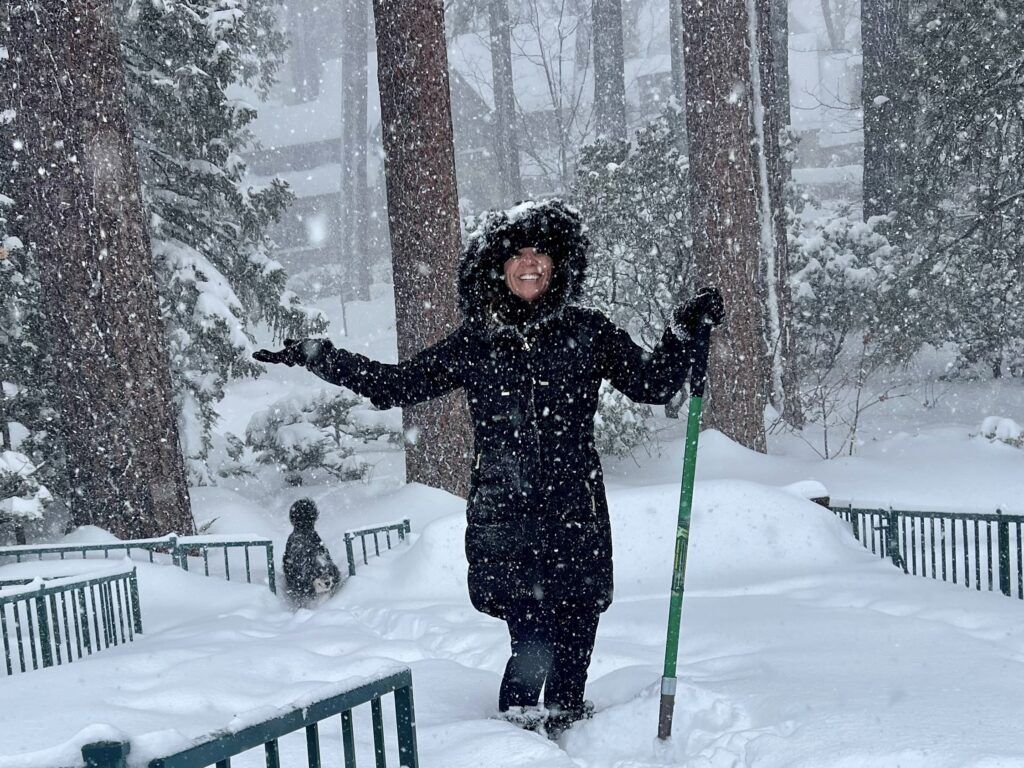 Our plan was to go up early Friday morning and head back down on Sunday. We both had flights in opposite directions scheduled for Tuesday. So we wanted to make sure we had time to get ready for our upcoming business trips.  So we grabbed two days of food and put chains on our four wheel drive and hit the road.
The previous storm had left a couple of feet of snow that had yet to be plowed. When we got to the house we were surprised by how much snow we hadn't been plowed. We were sure that the plows were just backed up and would eventually get to us. So we enjoyed our home, the fire, the s'mores, secured the house and settled in.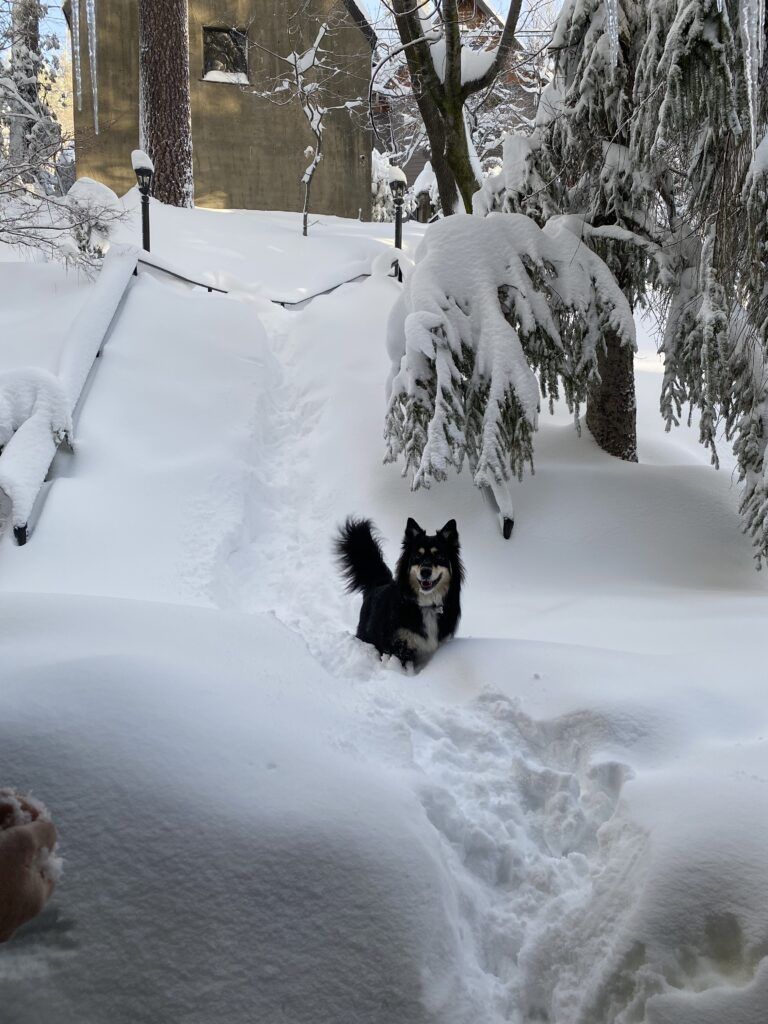 However, on Sunday morning when we hadn't seen the plows and the snow kept piling up at a rapid pace, we got a little nervous. I called our local Fire Department which is about a mile away.  When I asked if they had seen any plows. The fireman said, " No we haven't seen them in a few days.  We heard that all of the plowing equipment was sent off the mountain to open the Cajon Pass."  That's when we became nervous. If the Fire Department can't get out to help people then things were worse than we realized.
We shoveled snow off the dock, from around the house and quickly realized we had used up most of our food. That wasn't our big concern. Rather it was getting down the next day to make our flights. We began reading the local Facebook post with people that were much worse off than we were. People without heat, power, firewood, food, medicine and the list went on and on.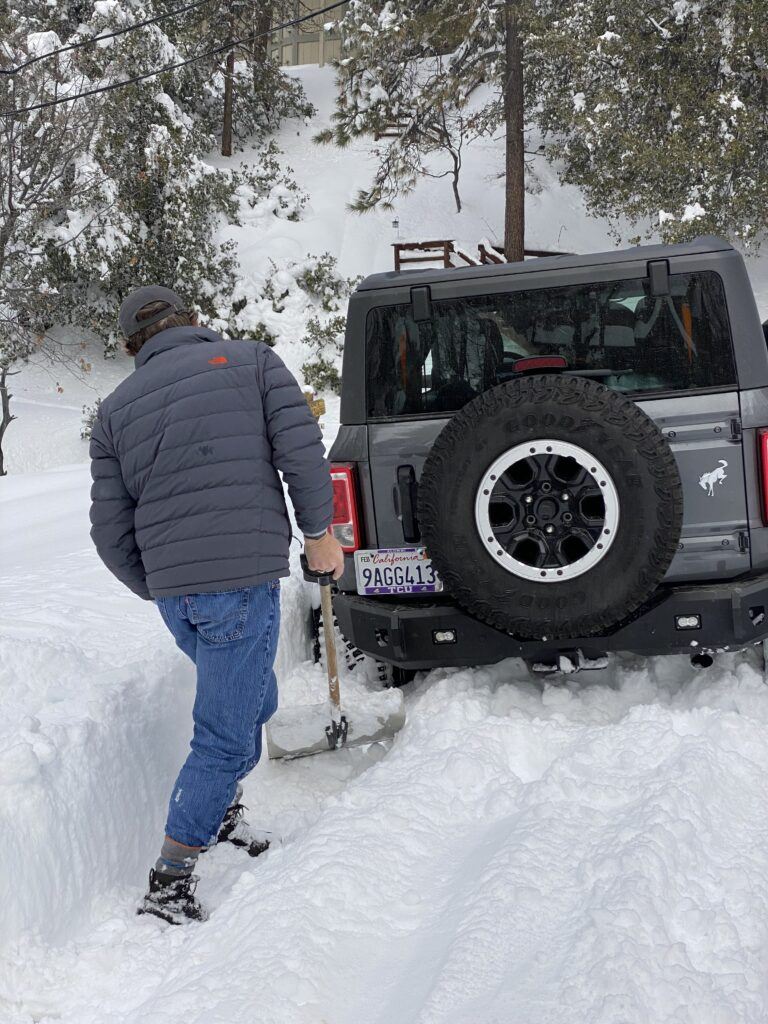 So Monday morning when we had eaten the last of our food we thought we would try to shovel our way out. Well, that didn't go so well and we got stuck. Once we dug the car out and had it back in the garage, my husband had an idea. He went onto the local Facebook group and asked if anyone had plowed roads within a mile of our home. In addition, he asked, if anyone was going down the mountain and could we get a ride?
That is when this story took a very different turn. Strangers named Debbie and Dustin replied to our online plea. They said that they were leaving in less than an hour if we could get to their home. So we turned off that water, grabbed our computers, our dog and left. We left behind our clothes, our car and hiked out about a mile in hip deep snow towards total strangers.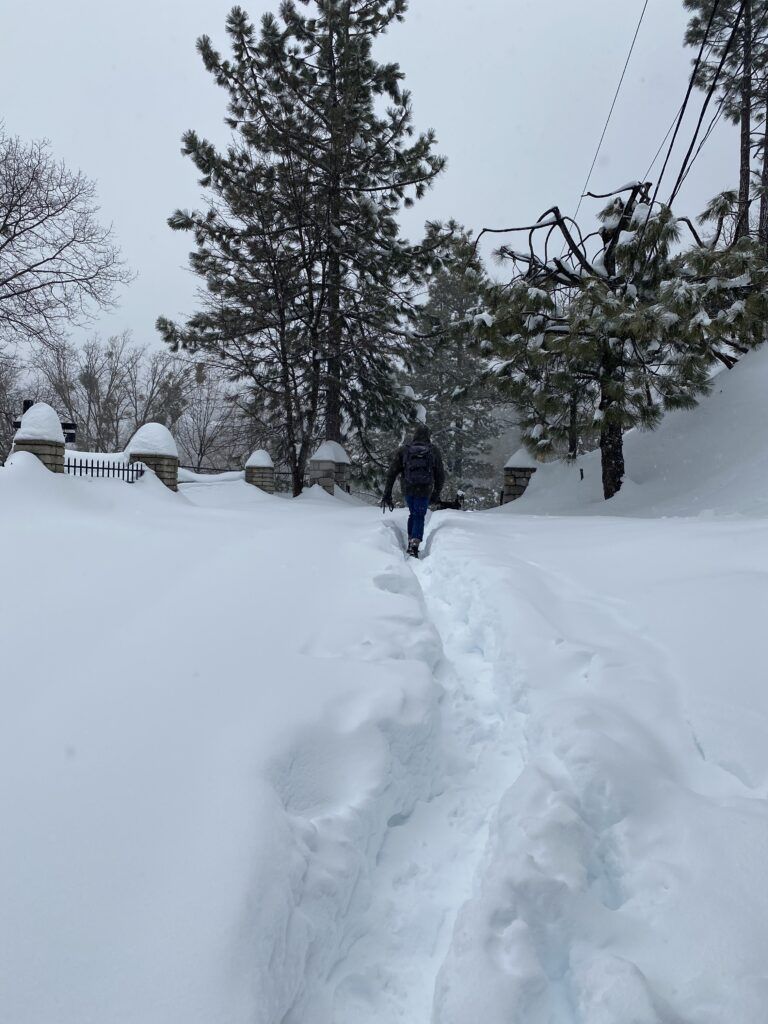 The second storm had now hit and snow was dumping down. When we got to their car we were told they were taking two cars down in order to pick up family friends coming into LAX the next day. They loaded us in, put a dog bed out for our dog and drove us down the hill and off the mountain. We passed tons of abandoned cars on our way down and saw the carnage from the past week's storm on the roads.
When we got to the bottom of the hill, in two cars, we saw news crews and so many people detained trying to get back up the mountain. Police had closed the road back up due to the danger. We filled up our new friends car with gas and asked where they were going to stay for the night? They didn't have a plan for their family that included two teenage boys and two chocolate labs. So we invited them to stay with us and they accepted.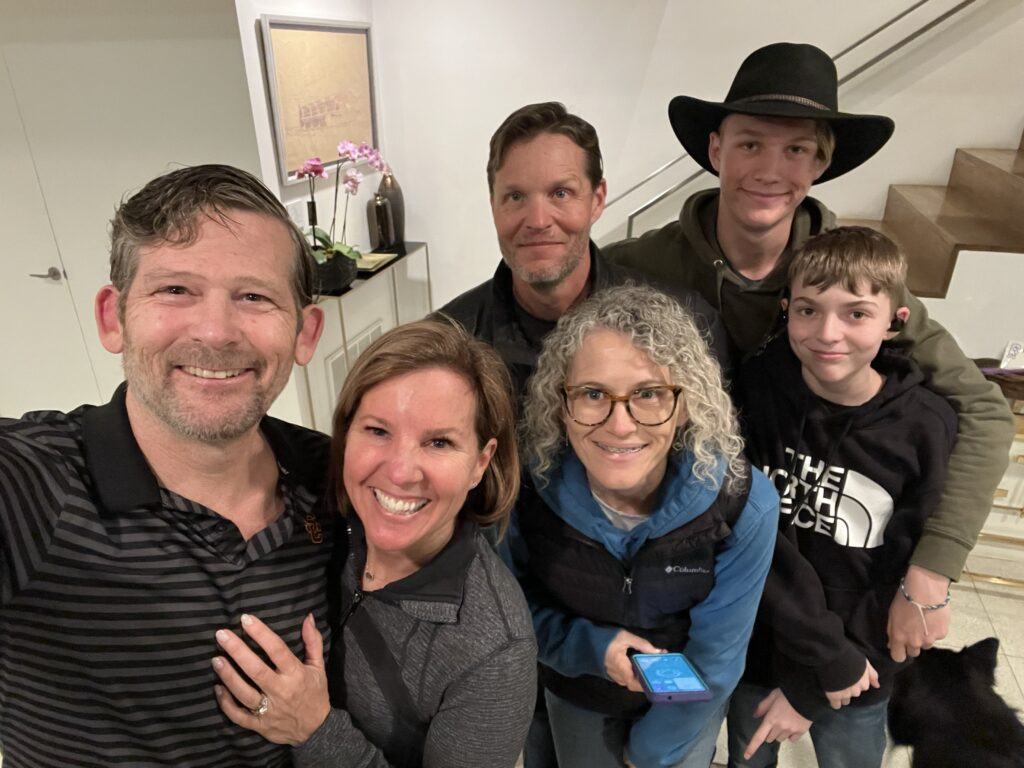 It isn't every day that you Facebook hitch hike and meet strangers who blindly take you into their cars. Alternatively, I don't think we have ever invited strangers to sleep over at our house but we did. This experience left such an impact on us both. There is such power in the kindness. We are all so afraid and so nervous to open ourselves up. I am the biggest fraidy cat of them all!  However, this experience made me realize just how walled off we all are and how easy it  can be to open up.
It wasn't just our situation that brought out the best in everyone, it happened all over the mountain. Neighbors checking on neighbors. People bringing others into their homes, shoveling snow for their elderly neighbors, delivering food and so much more. I'm not sure why it takes the worst situations to bring our the best in all of us, but it does.
We are incredibly grateful for Debbie and Dustin for their extraordinary kindness. If we could all be little more open and loving like our new friends the world would be a much better place.
CHARITY MATTERS.
YOUR REFERRAL IS THE GREATEST COMPLIMENT,  IF YOU ARE SO MOVED OR INSPIRED, WE WOULD LOVE YOU TO SHARE AND INSPIRE ANOTHER. 
If you enjoyed today's episode, please connect with us:
On IG @Charitymatters 
Post a screenshot & key takeaway on your IG story and tag me @heidijohnsonoffical and @Charitymatters so we can repost you.
Leave a positive review on Apple Podcasts
Subscribe to new episodes each week!
Copyright © 2023 Charity Matters. This article may not be reproduced without explicit written permission; if you are not reading this in your newsreader, the site you are viewing is illegally infringing our copyright. We would be grateful if you contact us.