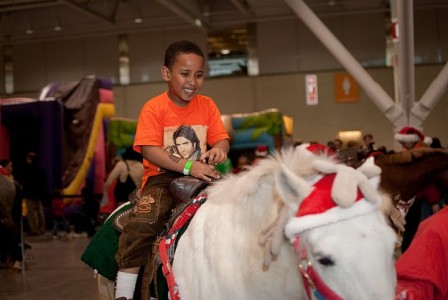 Can you hear the song playing now? "Ring a-ling, hear them sing, its Christmas Time in the City."  I am always looking for inspiring people and stories that make our world better and this family has created a holiday classic even better than the song it is named after.
It all started 23 years ago, in 1989 ,when the Kennedy family from Boston (not sure if there is a relation) saw the excess that their children had on Christmas. These two amazing parents, Jake and Sparky, wondered how they were going to teach their children what the season was really all about? They simply wanted them to understand the spirit of Christmas, of kindness, goodwill and the gift of sharing. Their solution was to take the holiday tradition that they had with their family and bring it to others, that didn't.
So the following year, the Kennedy's expanded their Christmas tradition with the help of their friends, co-workers, and clients all volunteering their time and donating gifts and money to provide Christmas for those that didn't have one. In that moment, Christmas in the City was born.  The first year 165 mothers and children from Boston Homeless Shelters were guests at a party at Boston City Hall, with holiday decorations, games, a holiday meal and a gift for each child that the child had asked Santa to deliver.
In the two decades since, Christmas in the City  hosts over 3,000 children and parents from homeless shelters from Boston and surrounding communities.  More than replicating the Kennedy's Christmas morning, these children now experience a safe environment, filled with food, entertainment, a Winter Wonderland with games, rides, a petting zoo, activities from the Museum of Science and the Children's Museum, and each child received a personalized gift from Santa which they had wished for.
As if that wasn't enough, Christmas in the City also distributes toys and gifts to almost 2000 families who can not be accommodated at the event.
The Kennedy's small gesture to share the joy of the season has now become a year round affair because Christmas in the City simply could not turn away those they have cared for.  In addition, they now provide a Thanksgiving food distribution for families in need; an Adopt- a-Family program to assist families transitioning from a shelter to their own home; assisting homeless families in providing support to help find employment, financial aid and legal advise, daycare and other help to get back on their feet.
What began as a way to teach the joy of the season to their own children has become a teaching moment for all of us blessed to witness the magic of Christmas happening all around us. Cue music….Ring a-ling, hear them sing, soon it will be Christmas day….
Charity Matters.
Copyright © 2013 Charity Matters. This article may not be reproduced without explicit written permission; if you are not reading this in your newsreader, the site you are viewing is illegally infringing our copyright. We would be grateful if you contact us.