Have you ever walked by litter or a pile of trash on a city sidewalk? Most of us have and keep walking, thinking it may smell or what a mess. How many of us would stop and try to figure out how to clean up their neighborhood? I haven't but today's guest Ann Cutbill Lenane did just that. She not only saw a growing problem but she rolled up her sleeves to do something about it.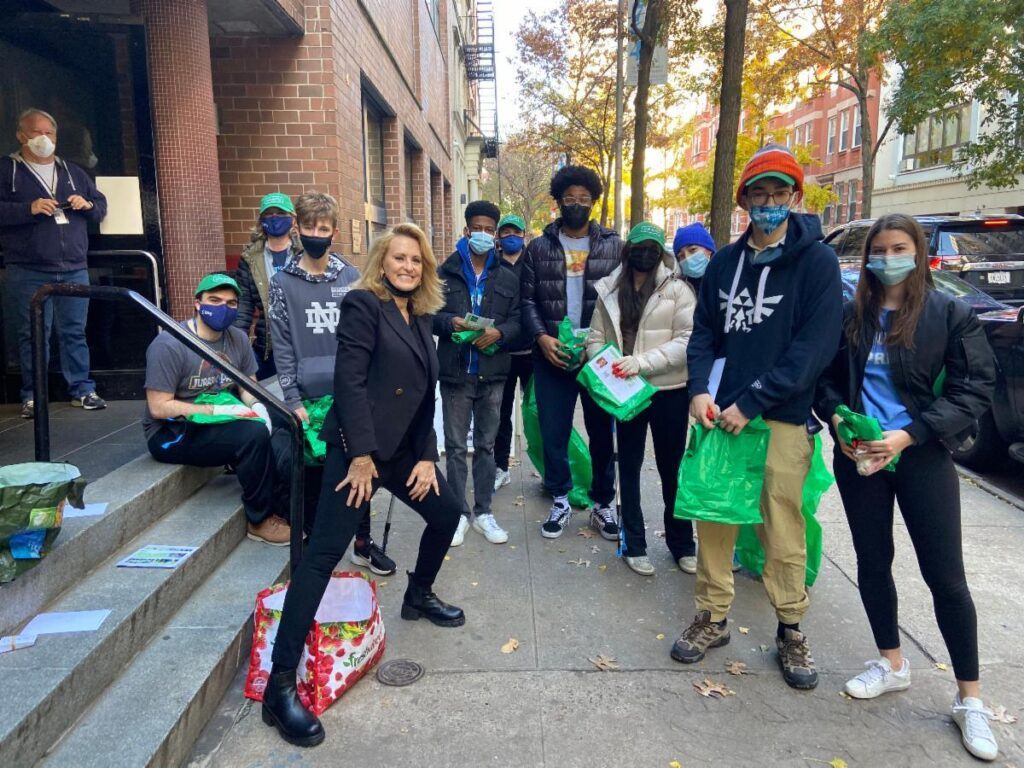 Ann Cutbill Lenane is a very successful residential realtor in the Upper West Side of New York City and is the founder of One Block UWS.  Join us today for an inspirational conversation about one woman's journey to clean up her neighborhood, employee people in need of jobs and revive a community One Block at a time.

Here are a few highlights from our conversation: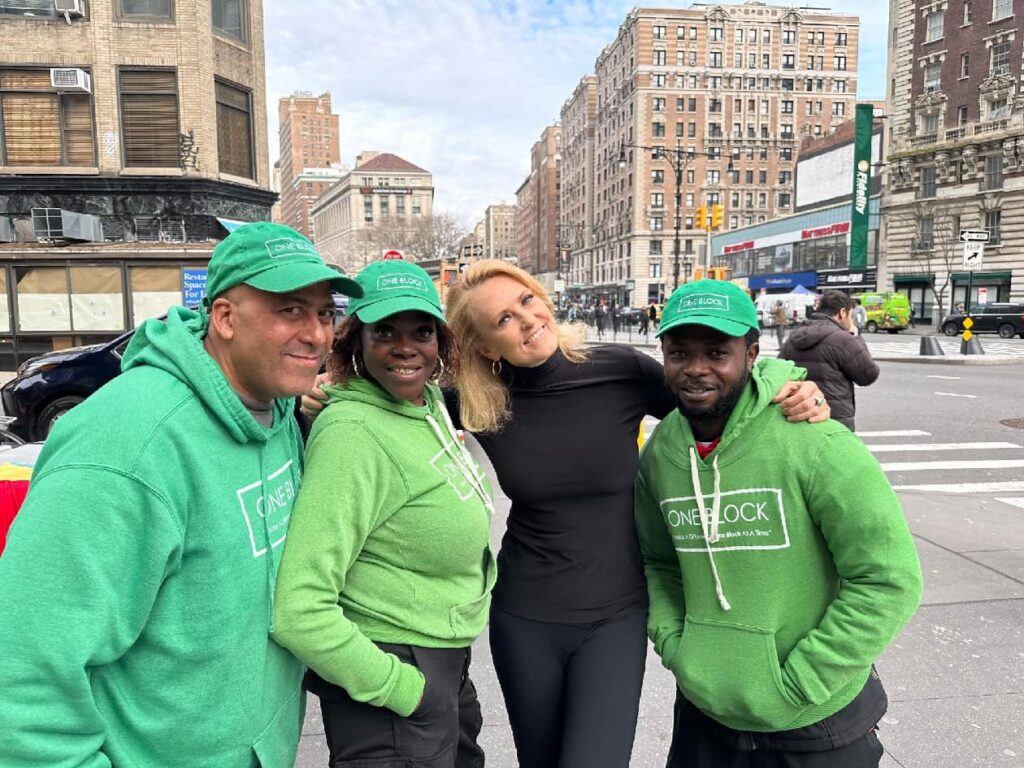 Charity Matters: Tell us a little about what ONE Block does?
Ann Cutbill Lenane: One Block is a nonprofit that facilitates the filling of more than 1,000 bags of trash every week on the Upper West Side of Manhattan. We coordinate group events so neighbors can connect and clean their community. In addition we employ three full time workers who were formerly homeless.
Charity Matters: What was the moment you knew you needed to act and start ONE Block?
Ann Cutbill Lenane: Back in 2020 New York City had $106 million dollar budget cut to their sanitation. As you can only imagine NYC was a very scary place to be during the pandemic. During the pandemic, on the Upper West Side where I work as a residential realtor there are three homeless shelters. Eight hundred homeless were moved into hotels during the pandemic on the Upper West Side. People were really upset.
Regardless of that situation, I saw the neighborhood begin to turn in a really bad direction. This neighborhood where I raised my kids and still work was something out of a zombie apocalypse. I saw the neighborhood going in a very bad direction.  In the 1980s, I remembered what Mayor Giulani said about cleaning up neighborhoods. He said, " If we start by cleaning up the trash and the graffiti then people will feel better about being there and be more respectful towards their neighborhood." So while I didn't have a solution for the homeless problem, I figured I could find a way to get trash picked up. I can start with the garbage.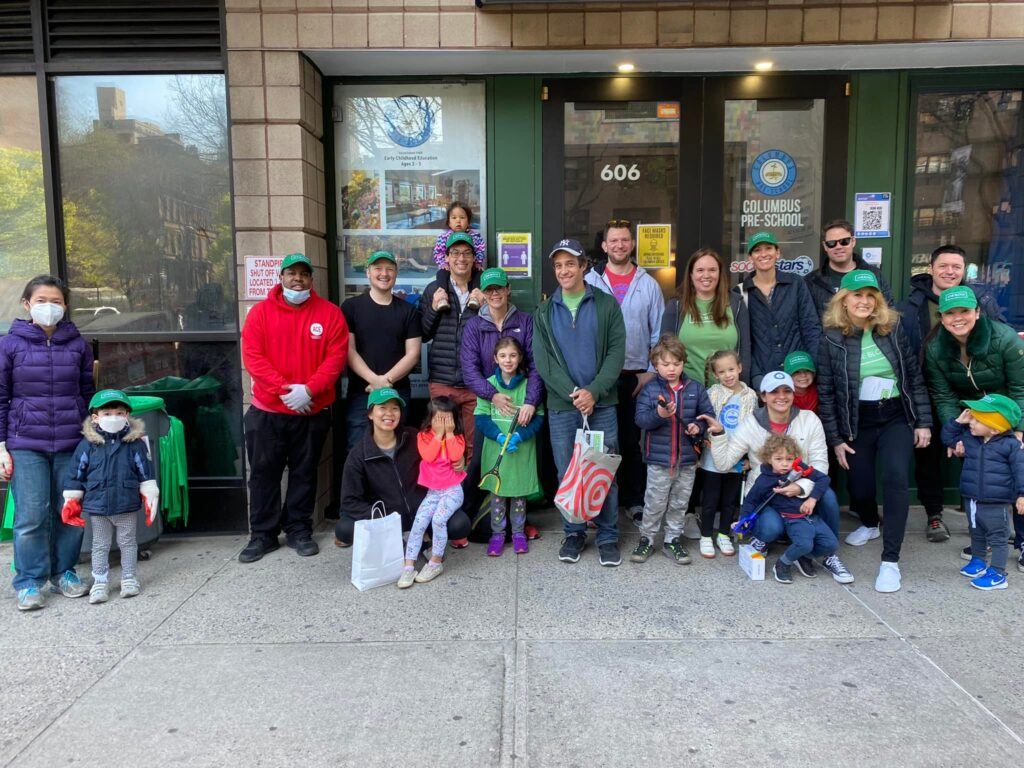 I also had three homeless shelters with people who needed work. So I thought, simple I will hire a few people who need jobs and we will go clean up some garbage. However, it wasn't that simple. We ultimately reached out to ACE a program that trains unhoused people on the skills needed to help us. The real breakthrough happened when the local neighbors, who were upset by the homeless situation started a Facebook page. It was 2020 and we were all locked up and this Facebook page had 16,000 followers instantly. One day a neighbor on the page said,"Who wants to help sign up to clean up garbage?"
I met with my young neighbor from Texas. We all started signing up and cleaning the neighborhood. Next thing we did was hire an attorney to help us get our 501c3.
Charity Matters: What are your biggest challenges?
Ann Cutbill Lenane: Some of the early things were easier like getting help from an attorney at Gibson Dunn to help us with a 501C3. Our weekly cleanups and communication was easy because of the Facebook page and group. We had great community involvement. Most importantly, I was able to gather our neighbors emails through the Facebook page which Facebook no longer allows. Capturing our communities information was so important so that we could keep everyone informed of our progress. Those things were relatively easy.
As far as challenges, we had people leaving the route because of drugs that we had to fire. We had people selling our trash bags for money. Our employees couldn't find restrooms in NYC. We gave employees gift cards so employees could get lunch and use the restrooms where they ate. Our employees didn't have shoes. We went back to our newsletter and asked our neighbors for help to support the people we hired to help clean our neighborhood .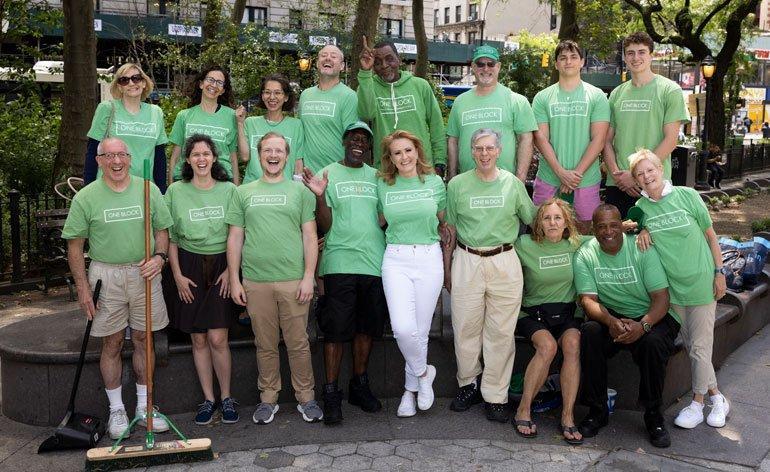 Charity Matters: What fuels you to keep doing this work?
Ann Cutbill Lenane: We have a woman named Jackie who takes care of everyone on our team. The thought that she wouldn't have a job does fuels me. Each month we wonder if we can go on with our funding. I can't picture these people without One Block. I want these people to be stable, to be appreciated and to have good lives.
Charity Matters: When do you know you have made a difference?
Ann Cutbill Lenane: There isn't a block that one of our employees is working that people don't approach them and say, "Thank you." Putting a face and a name on a person who could easily become invisible in New York City changes that for everyone.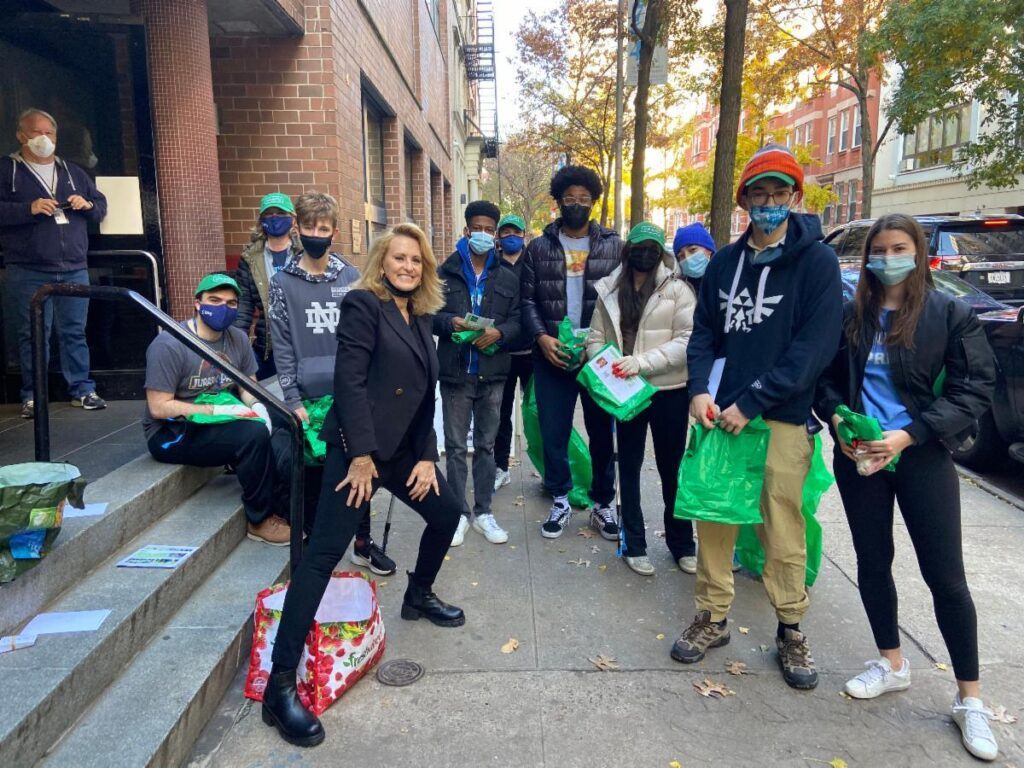 Charity Matters: Tell us what success you have had and what your impact has been? 
Ann Cutbill Lenane: Sometimes you think life is supposed to go in a certain direction and it doesn't. I can only help along the way and I know we are making an imprint on these people's lives. You can only do what you can do. You just never know what your impact is on someones life. The Upper West Side is cleaner, our team has shoes and we keep putting good out into the universe. 
Charity Matters: If you could dream any dream for your organization, what would that be?
Ann Cutbill Lenane: The dream would be to be able to support the people that work for us. Getting them into a stable situation and lift them up. It's not about One Block and garbage but about the people who need a leg up.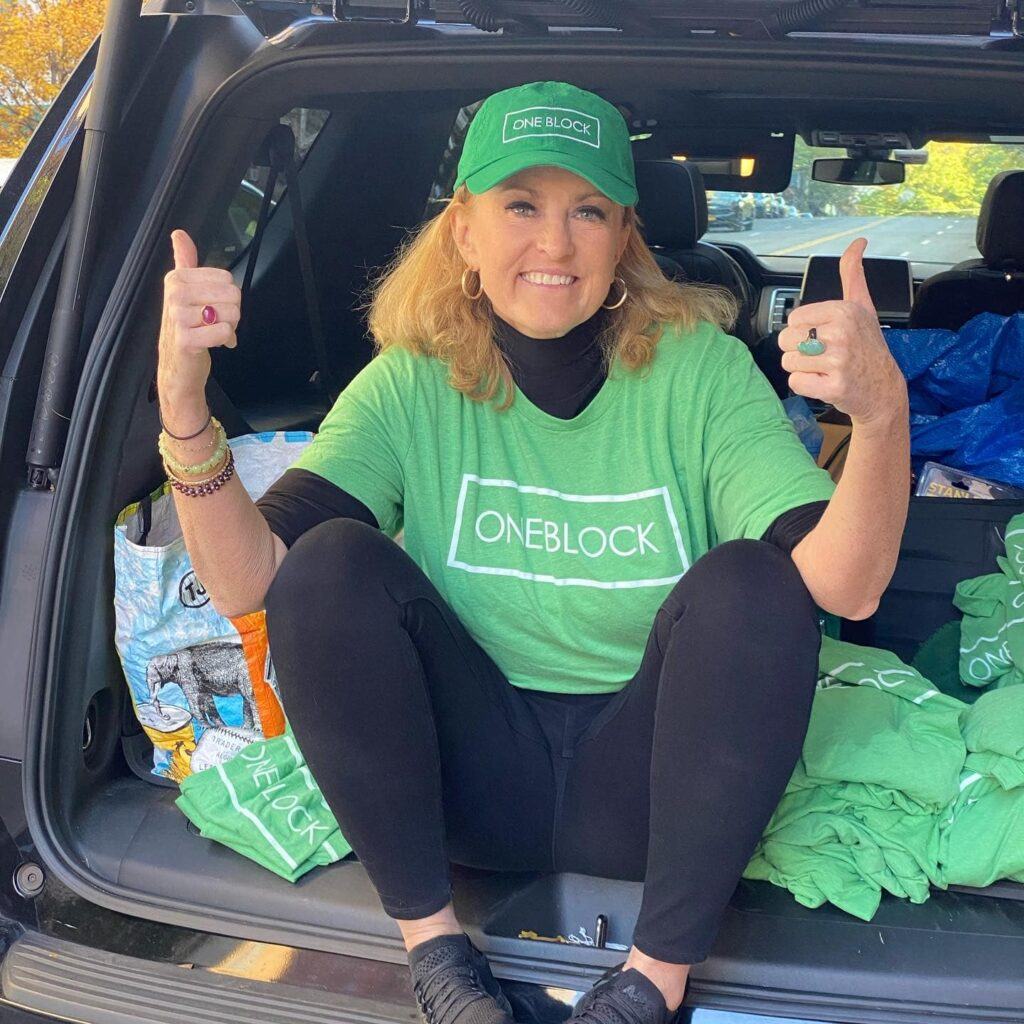 Charity Matters: What life lessons have you learned from this experience?
Ann Cutbill Lenane: I've learned the power of one, which becomes the power of many. The impact is huge. I am used to speaking to people everyday and connecting people. What is your super power? You have one and how will you share it? 
Charity Matters: How has this journey changed you?
Ann Cutbill Lenane: . We were blessed by something that felt like the end of the world during Covid. Something great came out of all of this. You have to start with one small act. Many people want to help. One person one block at a time.
CHARITY MATTERS.
To Support One Block UWS
Instagram: @oneblockwestside
CHARITY MATTERS.
YOUR REFERRAL IS THE GREATEST COMPLIMENT,  IF YOU ARE SO MOVED OR INSPIRED, WE WOULD LOVE YOU TO SHARE AND INSPIRE ANOTHER. 
If you enjoyed today's episode, please connect with us:
On IG @Charitymatters 
Post a screenshot & key takeaway on your IG story and tag me @heidijohnsonoffical and @Charitymatters so we can repost you.
Leave a positive review on Apple Podcasts
Subscribe to new episodes each week!
Copyright © 2023 Charity Matters. This article may not be reproduced without explicit written permission; if you are not reading this in your newsreader, the site you are viewing is illegally infringing our copyright. We would be grateful if you contact us.