As many of you know, I fell in love almost a decade ago with TCU. Yes, it was an unexpected love affair that I really never saw coming. The best relationships usually are the ones that blind side and blow us away.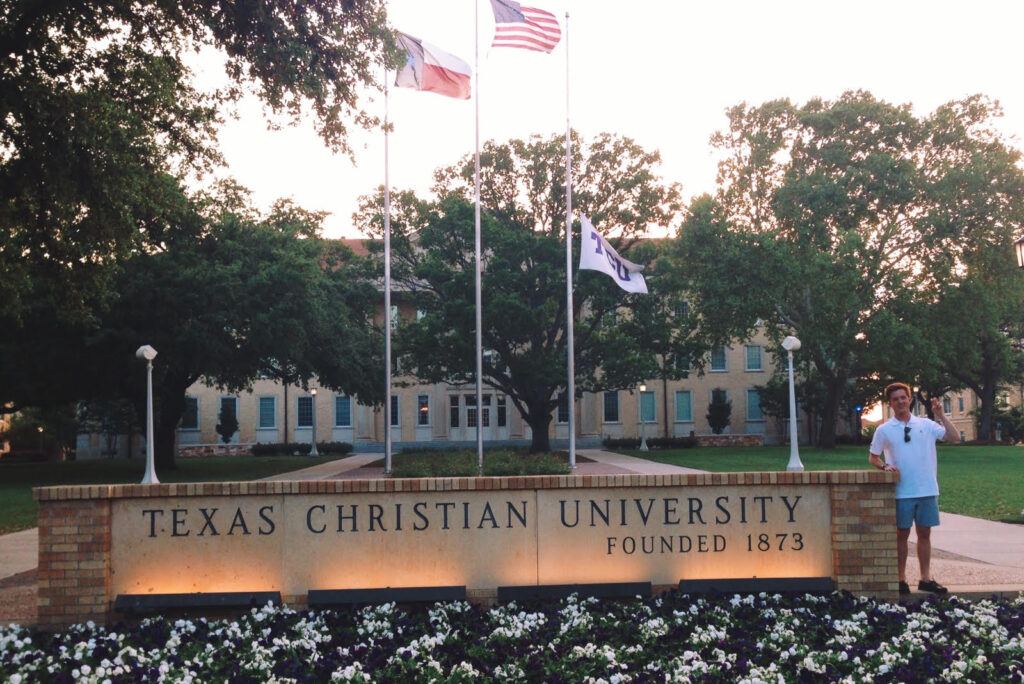 Ten years ago, my oldest son was admitted to TCU. Through a crazy twist of fate,  I interviewed a nonprofit founder named Ann Louden, for this blog. The interview happened late afternoon on the day before my son left for college. In full disclosure, I knew I was interviewing someone who had started a breast cancer nonprofit. She was in Pasadena filming a video for her organization with Josh Grobin. Other than that, I didn't know anything but her name.
Short story long, Ann Louden did start a great cancer nonprofit that was called…wait for it…TCU Frogs for a Cure. You may remember the post?  If not you can find it here. Ann is the woman who brought pink to all football games in October. After an inspirational conversation and connection with Ann, we became fast friends. She asked me if I had interest in getting involved at TCU.  I honestly answered, "No." In that moment, my singular focus was packing and getting my son off to college. In hindsight, she was getting ready to set me up on a blind date.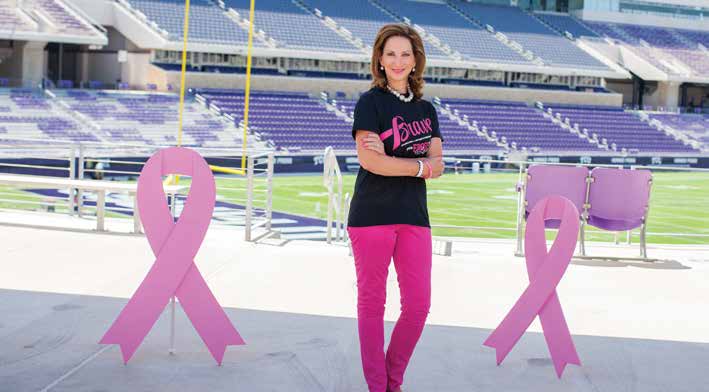 A few days later, I called her back. I told Ann that there was something incredibly special about this school. After time spent there, I would be happy to help. And looking back, that was the beginning of the love affair. You know, the early phase of love when you get to know one another? In getting to know TCU, I really liked what saw.  Happy and kind people, a thriving campus and people that were connected and going places. Ann then asked," Do you want to join the Chancellor's Advisory Council?" The invitation felt like a first date. I accepted and joined an incredible group of alumni, donors, friends and parents at TCU.
When you fall in love there are a number of things that happen. You begin to take stock of qualities you admire and strive for. There was no shortage of admirable traits. I witnessed exceptional leadership, vision, connection and community at TCU. Our group met every few months. I found myself looking forward to our meetings. Because like all good love affairs it is so fun learning about the other person. In this case it was a college I was learning about but I was head over heals. Regardless,  we learned about everything  from; the campus of the future, supporting student athletes,  admissions, providing students with a life full of meaning to opening a medical school. With each meeting and conversation I became a little more smitten.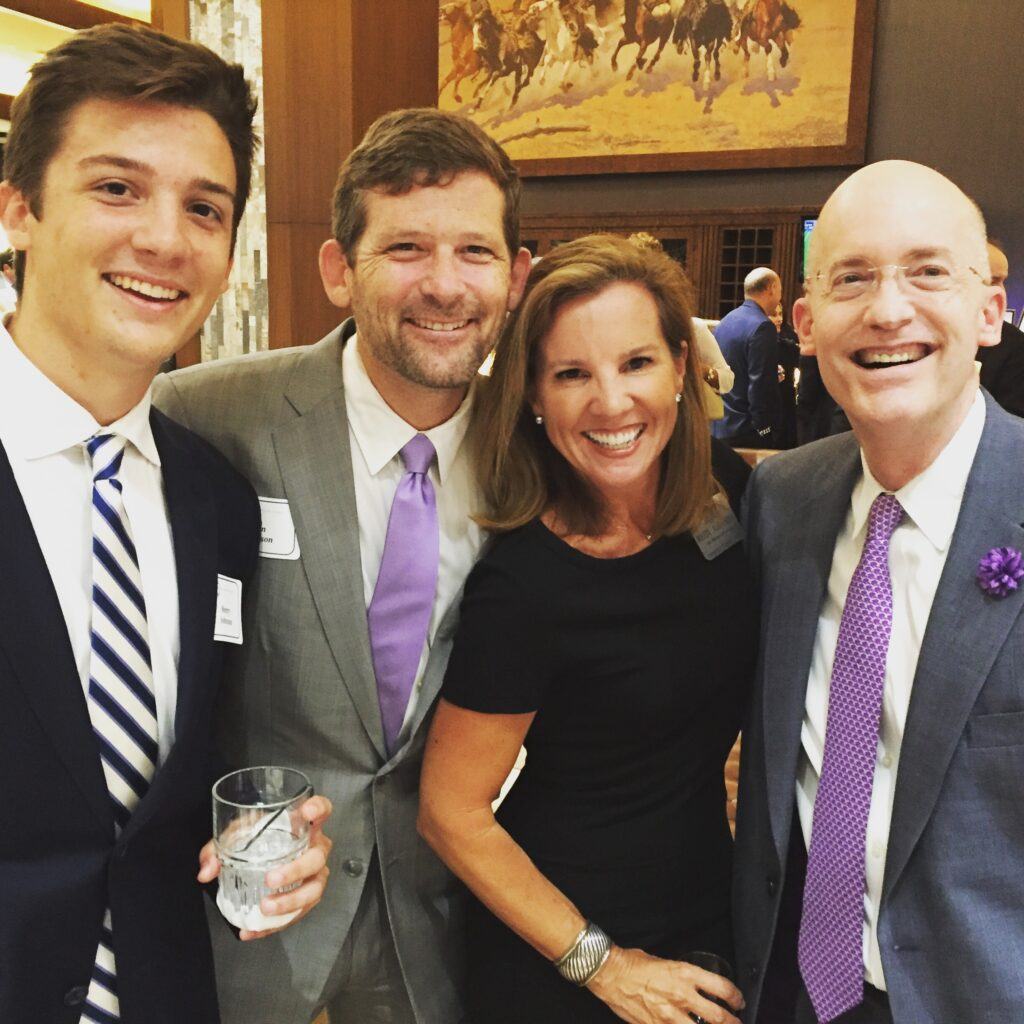 Last week, I went back to Fort Worth for my last Chancellor's Advisory Council (CAC) meeting. Insert big sad sigh here. The love affair wasn't over but it looked like after a decade we were going to have to make this relationship more long distance than it already was. While it felt like a break up, it wasn't.  It was however, my final meeting. In looking back, so many things we discussed that were mere ideas ten years ago had become realities.
The medical school the Chancellor and board dreamed of opened. The first class of TCU Medical School graduates this year! That National Championship Game…well we did get there. Boy was it memorable! The buildings that were built,  celebrating the 150th Anniversary of the school and the list goes on and on.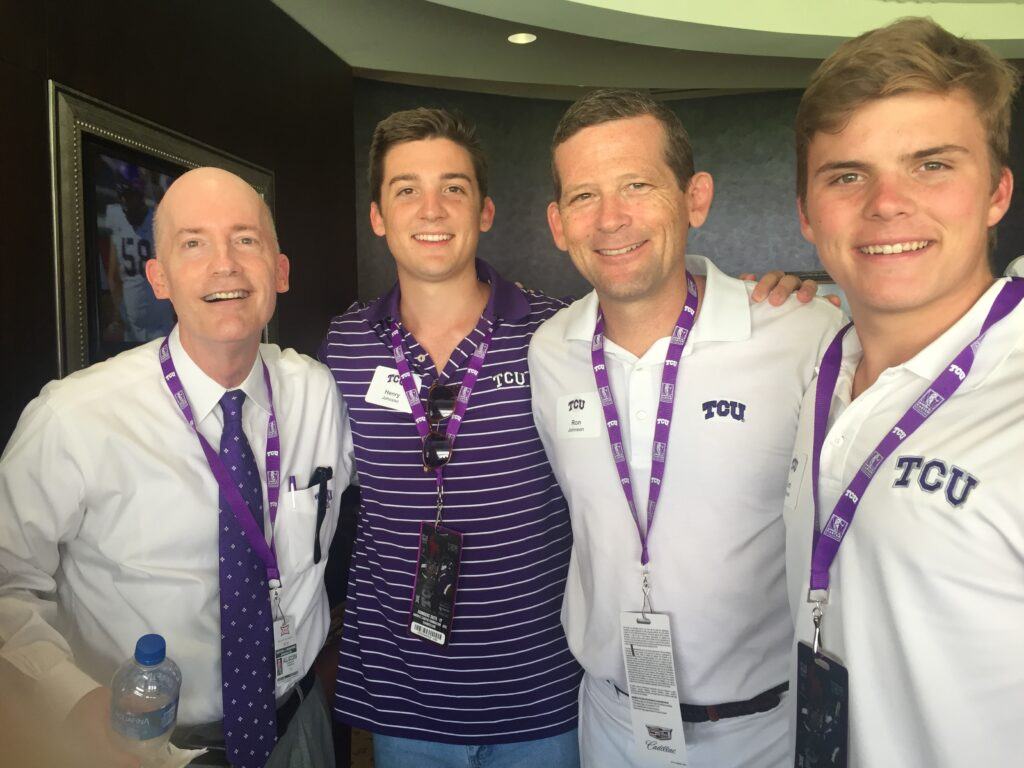 Like all good love you learn from it. This experience taught me so much, most especially about leadership. Watching a great leader is a gift. When you see a visionary in action, it is a privilege. Seeing the accomplishments from the past decade at TCU is truly remarkable. Time at TCU has been a lesson is vision, communication, connection, consensus, mentoring and service. What was not to love?
So while this love affair isn't over, my time at TCU is coming to an end. Our youngest graduates in eight weeks and it is time to close this incredible chapter. To say my heart is heavy would be an understatement. I am forever grateful for my time with TCU, the lessons learned and all the amazing people I met. Endings are never easy. Ultimately, it is the people, the friendships made and the all the great memories that make the endings so worth it.
CHARITY MATTERS.
YOUR REFERRAL IS THE GREATEST COMPLIMENT,  IF YOU ARE SO MOVED OR INSPIRED, WE WOULD LOVE YOU TO SHARE AND INSPIRE ANOTHER. 
If you enjoyed today's episode, please connect with us:
On IG @Charitymatters 
Post a screenshot & key takeaway on your IG story and tag me @heidijohnsonoffical and @Charitymatters so we can repost you.
Leave a positive review on Apple Podcasts
Subscribe to new episodes each week!
Copyright © 2023 Charity Matters. This article may not be reproduced without explicit written permission; if you are not reading this in your newsreader, the site you are viewing is illegally infringing our copyright. We would be grateful if you contact us.