We all know that October is Breast Cancer Awareness month but did you know November begins Pancreatic Awareness month? Believe it or not, November is just days away. A few weeks ago I was having lunch with a new board member of the nonprofit I work for. We were having a fantastic conversation about the nonprofit she works for called Pancreatic Cancer Action Network or PanCAN. She asked me, "Why haven't you interviewed PanCAN for Charity Matters?" My reply was, "I would love to!" Like that she had me introduced to PanCAN's first employee, President, and CEO, Julie Fleshman.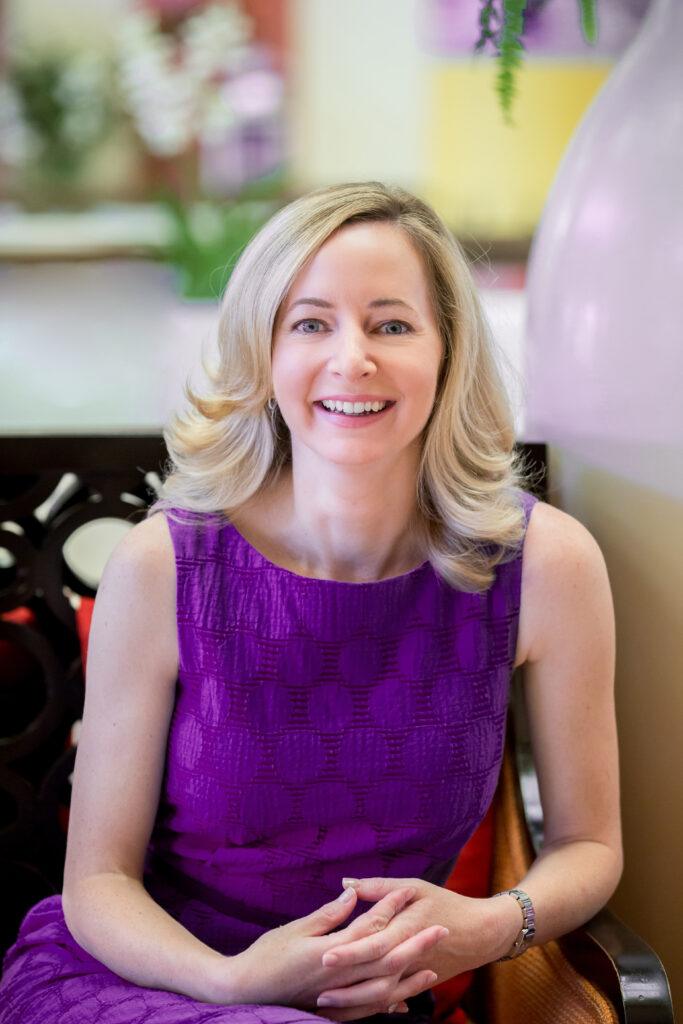 I have to admit I was a little intimidated because under Julie's leadership PanCAN grew from one employee to 150. PanCAN has funded over $149 million dollars in research for Pancreatic Cancer and created a platform that has fueled incredible change for the Pancreatic Cancer community. Despite my fears, Julie was beyond amazing, passionate and so much fun to talk to. Join me today to meet this inspirational leader and learn about her incredible journey in changing lives.

Here are a few highlights from our conversation:
Charity Matters: Tell us a little about what The Pancreatic Cancer Action Network does?
Julie Fleshman: PanCAN is a national patient advocacy organization focused on pancreatic cancer. Our vision is to create a world in which all pancreatic cancer patients will thrive. So every day, that is what we are focus on. We fund research and clinical initiatives, we provide patient services and we do government advocacy work in Washington, DC to increase the federal resources. And we have an amazing network of volunteers all across the country that are helping us to raise awareness, visibility, and funds for the disease.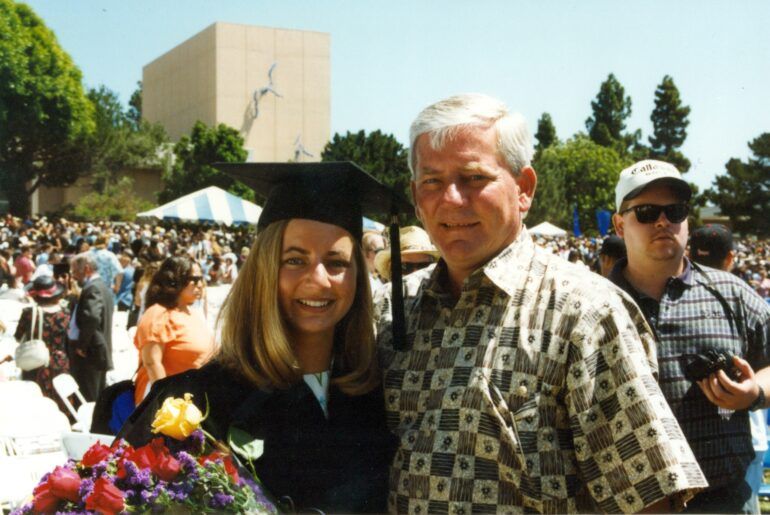 Charity Matters: Tell us how you got involved and went from employee number one to CEO?
Julie Fleshman:  I got involved 22 years ago now, it is hard to believe. In 1999, my dad was diagnosed with pancreatic cancer when he was only 52 years old. He hadn't been feeling well, but they couldn't really figure out what was wrong with him. At one point, he was told to go home and take some time because they thought he was just having indigestion. Unfortunately, it ended up being a diagnosis of pancreatic cancer. He only lived for four months after his diagnosis and we were devastated.
I had never heard of pancreatic cancer, we really didn't have cancer in our family. And I could not believe that there was absolutely nothing that could be done that there were no treatments. We were basically told, go home and get your affairs in order. So after he died, I was mad, and I started to do some research back in those early days of the Internet.  PanCAN had just been founded in 1999 by three people who had also all lost their parents the disease. One thing led to another, sort of serendipity,  I ended up being hired as the very first employee in 2000.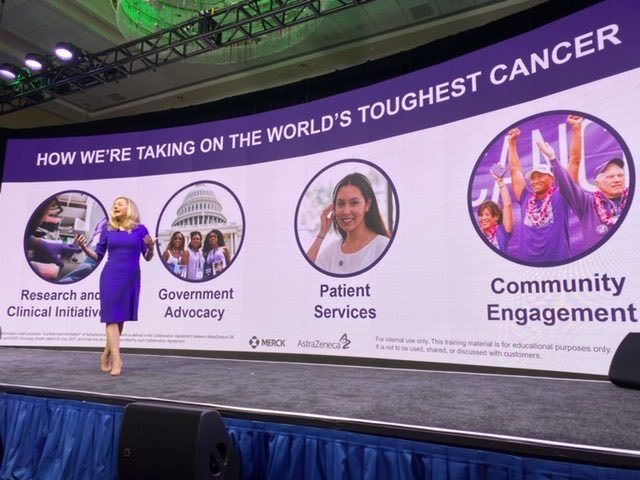 Charity Matters: What Have been your biggest challenges?
Julie Fleshman:  I think there are two sets of challenges. One is the challenge of this disease. It is a challenging disease scientifically. Certainly when PanCAN was founded, literally, there was very little known about even why it was challenging. So the baseline was really nothing. There was so little research happening anywhere in the country focusing on pancreatic cancer. So there was that challenge of how do we even attack this? What is the strategy? And what do we do?
Then there's the challenge of the organization and the operations and raising money and what our programs going to be. And hiring staff and all of those things.  I think we did a really good job in the early days of creating excellent programs, that we're serving the pancreatic cancer community.  Our patient's services were literally providing services to patients and families.  Also on the research side, really looking at the big picture and saying, "Okay, at this time, we're small but where can we have the greatest impact with the least amount of dollars?"  I think we did a good job being smart in those early days about what those things were. You know, we just feel very lucky that it is an amazing community, from the research community to the constituents, volunteers, and donors, who have helped us to continue to grow year over year.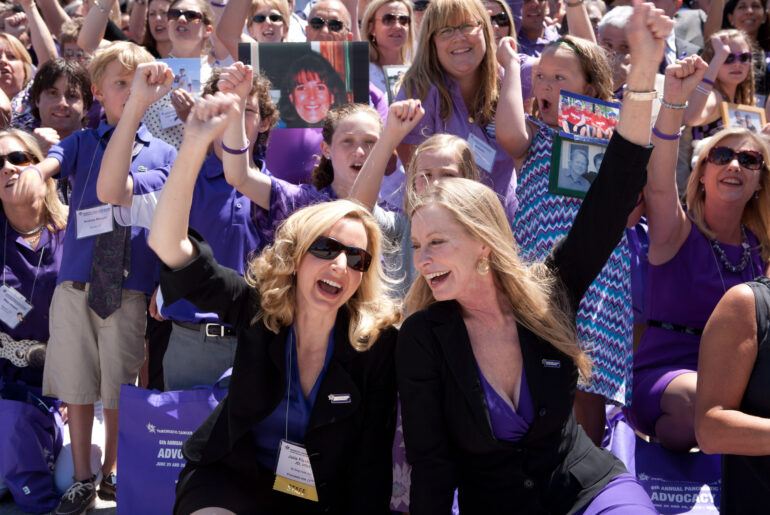 Julie with Patrick Swayze's widow, Lisa Swayze
Charity Matters: What fuels you to keep doing this work?
Julie Fleshman: I think although, the progress is never as fast as we want it to be. But you know, you meet people and you share their stories and you talk to a patient and maybe that they're not going to beat it, but they want to be a part of helping to make sure that it's better for future people. That just gives you that inspiration to say, we got to keep doing this for them. If they're not here to get to be that voice, we have to be that that voice for them. And there are successes, right? It's not maybe the big win that we all want that there's a cure, but there are steps every day towards that. So you really have to celebrate sort of those small wins.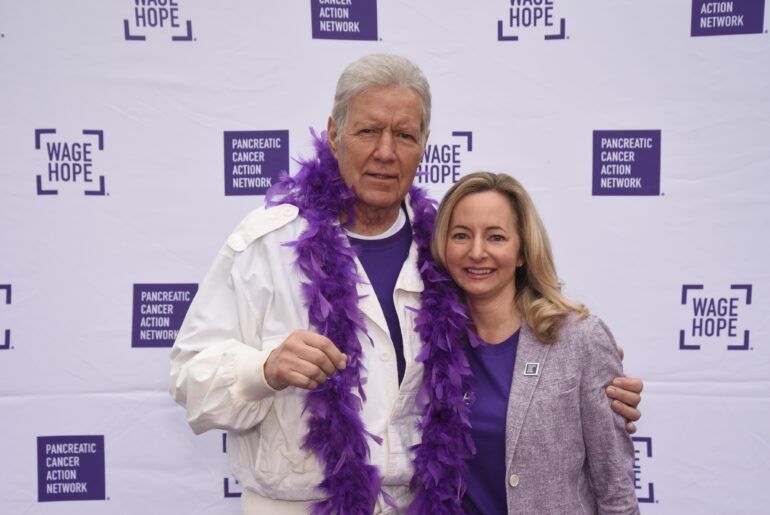 Charity Matters: Tell us what success you have had and your impact? 
Julie Fleshman:  Ultimately, we're trying to change patient outcomes. So for cancer and looking at pancreatic cancer, we sort of use the five-year survival rate.  That's the kind of Capstone it doesn't move very quickly, but it has moved from 3% when I started doing this, to 10% today. That is still unacceptable but is absolutely moving in the right direction.
Then you have to look at sort of all the things day to day. Like the research grants that we're funding and when and those researchers go on to publish that work and that publish work changes practice. Then the next researcher who's now going to take those that outcome and they're going to add to it to get to the next step.
 Just last year alone, we had 45,000 interactions with patients and families through email and phone calls and people attending our webinars using all of our different patient services. I know from the feedback that we get, how meaningful that is to people. Especially those families that connect with one of our case managers and utilize them throughout their journey that when that family member dies, usually our case managers get the most beautiful email or card from the family saying, thank you for being there with us through this whole journey and so even though the outcome isn't what we want it to be yet they add to the making it a more positive experience.
 I can see there is a pancreatic cancer research community today that didn't exist. There was not a research community focused on pancreatic cancer 20 years ago. There are more resources being put towards the disease across the board and all of that is helping to drive and accelerate progress. I feel like every year now there's sort of this major scientific breakthrough. That before it felt like it was a really long time between when it felt like we were making progress.  You can definitely see the momentum is picking up and, and the rate of progress is much faster.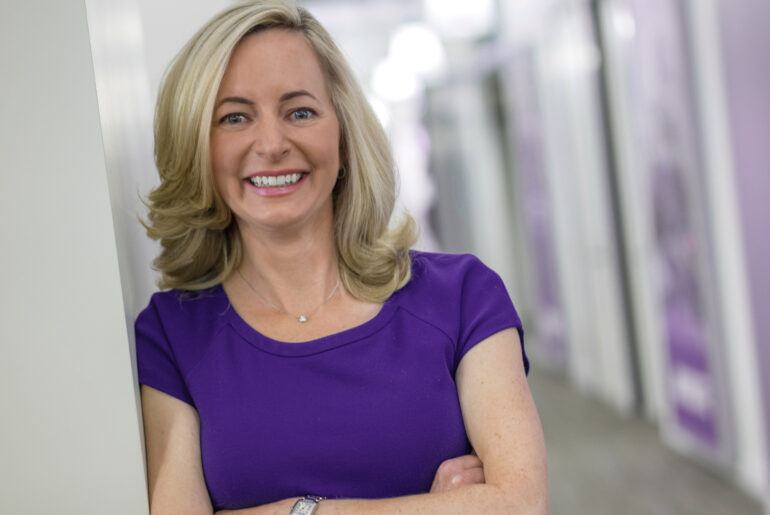 Charity Matters: How has this journey changed you?
Julie Fleshman:  It is hard for me sometimes to believe it was 22 years ago that my dad died. I mean, really, it feels like a lifetime ago in some ways. And in other ways, I can still remember sitting on the couch next to them and having a heart-to-heart. Those are things when you lose a parent, or someone close to you, that are life-changing, and really do change the way you view the world.
I always think God, I'd love, of course, my dad to be back. But I also cannot imagine my life without PanCAN. This has become such an important part of who I am and what I do, and just everything, it's so important to me. So I feel like, in this strange way, he gave me this amazing gift. Right? And it's not just doing the work, but I  feel passionate and committed to being a part of changing outcomes.
CHARITY MATTERS.
New episodes are released every Wednesday!  If you enjoyed today's episode, please connect with us:
On IG @Charitymatters 
Post a screenshot & key takeaway on your IG story and tag me @heidijohnsonoffical and @Charitymatters so we can repost you.
Leave a positive review on Apple Podcasts
Subscribe to new episodes each week!
YOUR REFERRAL IS THE GREATEST COMPLIMENT,  IF YOU ARE SO MOVED OR INSPIRED, WE WOULD LOVE YOU TO SHARE AND INSPIRE ANOTHER.
Copyright © 2021 Charity Matters. This article may not be reproduced without explicit written permission; if you are not reading this in your newsreader, the site you are viewing is illegally infringing our copyright. We would be grateful if you contact us.