In full disclosure, there is nothing more fun than talking to your friends about their nonprofit work. Especially when their work involves creating magic for very sick kids with extreme hospital room makeovers.  Think of your favorite HGTV show with the recipient being a sick child and the makeover being a hospital room. Many of you may remember the incredible story of the nonprofit Once Upon a Room that I shared a few years back?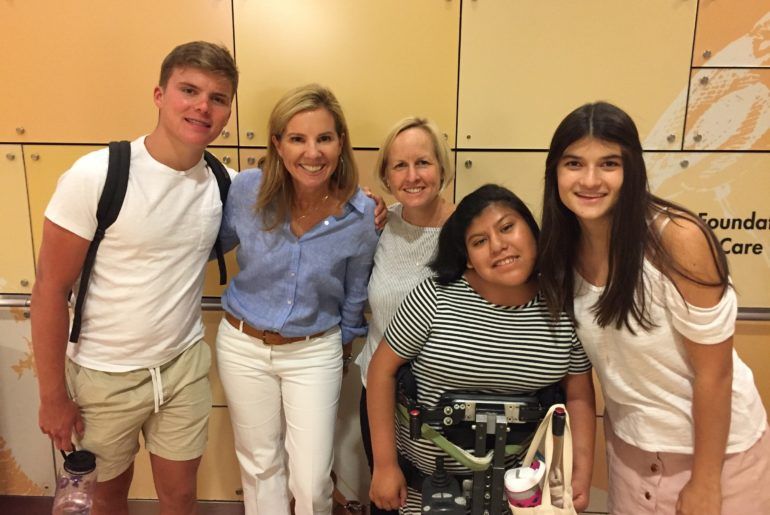 Join us today for a fantastic conversation with the three Once Upon Room founders; Jenny Hull, her daughter Josie Hull and Josie's best friend Sienna Dancsecs. Where we will learn about Jenny Hull's incredible journey from being a celebrity assistant to an adoptive mother and nonprofit founder. These three remarkable humans will inspire you with their friendship, love, and beautiful work helping thousands of children and families each year.

Here are a few highlights from our conversation: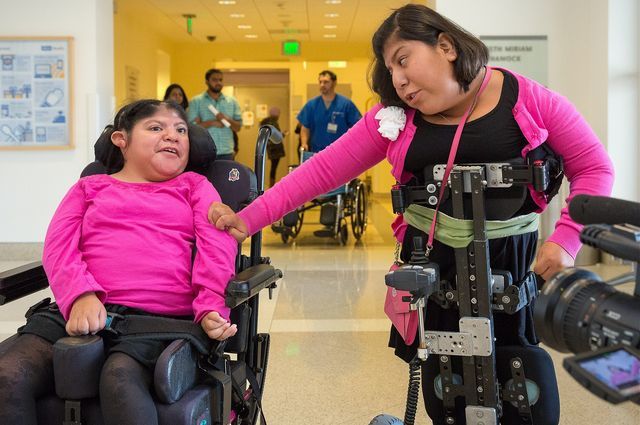 Charity Matters: Can you share Your journey with Josie prior to beginning Once Upon a Room?
Jenny Hull:  I was with an amazing family in Malibu that I worked for and they were very involved in an organization called Healing the Children. Subsequently, I became involved with them too.  What we did there was bring kids here to the United States for surgeries, and then we'd send them back home after they were healed.  Long story short, we got this request for these two adorable high conjoined twin little girls.
It was kind of our mission to bring these babies( Josie and Teresa) here to America and they were conjoined at the head. They were separated at UCLA Medical Center and had a 23-hour surgery. Our girls were the first successful girls to be separated successfully.  Long story short, I am now the very, very proud adoptive mother of Josie, one of the twins. Josie's other twin is with another amazing family in Valencia and we're really close together.  The birth parents are really the heroes in the story, selflessly allowing their children to be in America because that's the only way they would have survived. They really are the unsung heroes in this, we are so grateful to them.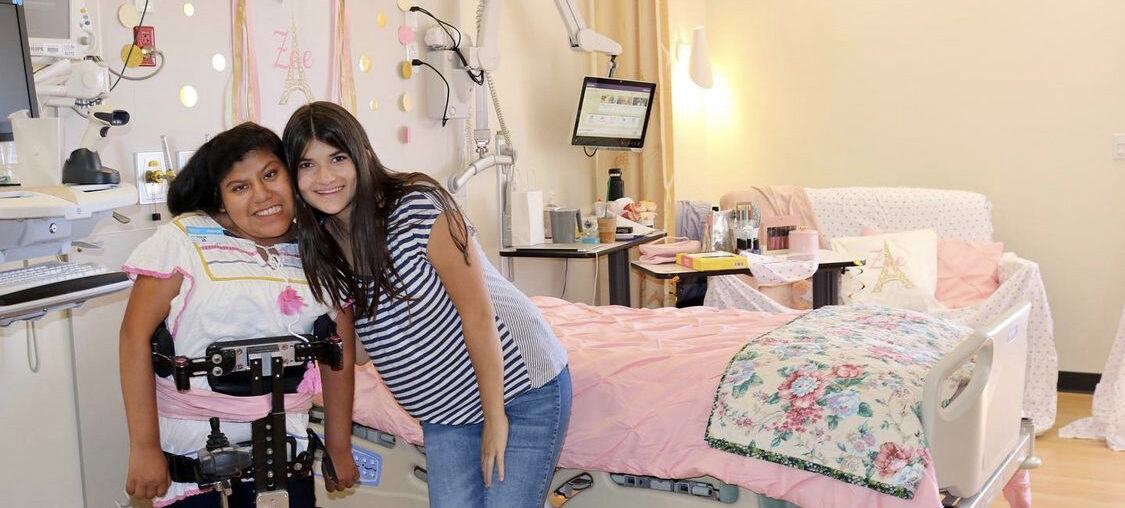 Charity Matters: What was the moment you knew you needed to act and start  Once Upon a Room?
Jenny Hull: We spent we have spent over the years, I can't even count the number of days and surgeries there have been too many!  We did we personalized Josie's room every single time. Everybody would walk in with and they would look at it and say, "Oh my gosh Josie you love pink!" Then they would recognize her as a person instead of her what she was in there for and it really touched our hearts.
We realized it was especially important in a teaching hospital when you have so many new residents, for them to recognize the person is so important. So at 11 years old, we were laying in bed one night and I vividly remember this and Josie leaned over and says,  "Mom, I really really need to be doing something for someone else. I want to help other kids in the hospital." I said, "That's a great idea!" We called Sienna who was the same age, 11 years old, and told her the idea. Sienna said, "Let's go in and decorate these hospital rooms." Then Sienna came up with the name.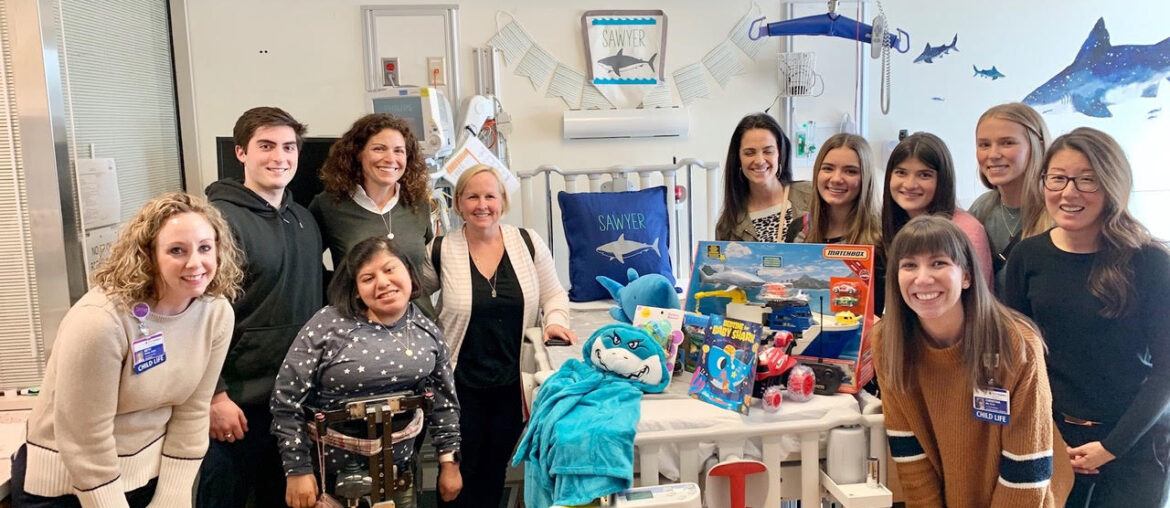 Charity Matters: What are your biggest challenges?
Jenny Hull: Definitely fundraising is a big challenge. In all honesty, we thought when we started we'll do 50 rooms a year at CHLA. Period. We thought this is great and it's something that will inspire the girls and they can inspire other people. We didn't think much of it and we ended up doing 102 or 105 rooms our first year. Our town is so supportive, and they really rallied behind what we were doing and really supported the effort and we were so grateful for that.
Then we started expanding, all of a sudden, it was like the universe opened.  It's really kind of because the girls took this on. People see the greatness and what it does for the hospital's families and especially patients.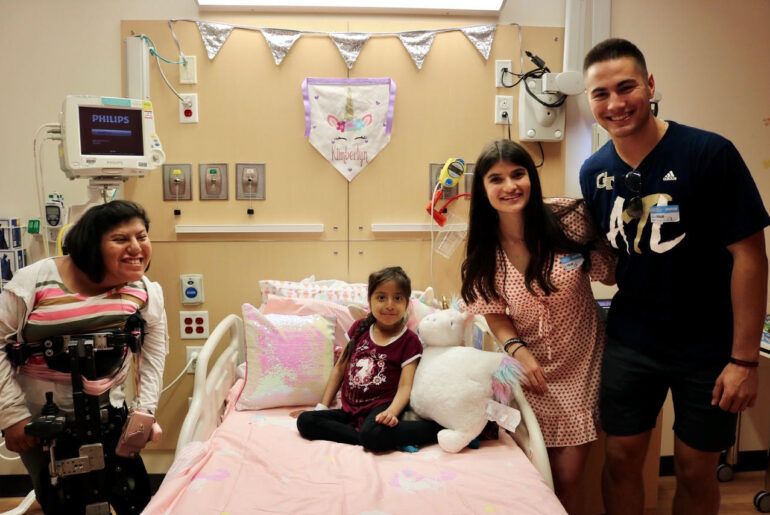 Charity Matters: What fuels you to keep doing this work?
Jenny Hull: What really keeps me going is these two amazing faces next to me. Literally, there are times that I don't think I can do this anymore. I'm exhausted and fundraising is so hard. We just want to change the lives of these families and these patients so much. Every room is our heart and soul goes into.
Before COVID, we were at anywhere between 40 and 70 rooms a week. There'll be nights I'm like, we're done and then I look at Josie and Sienna.  It's their dream, journey, and vision.  I feel like I cannot let down for a second if we just need to keep going.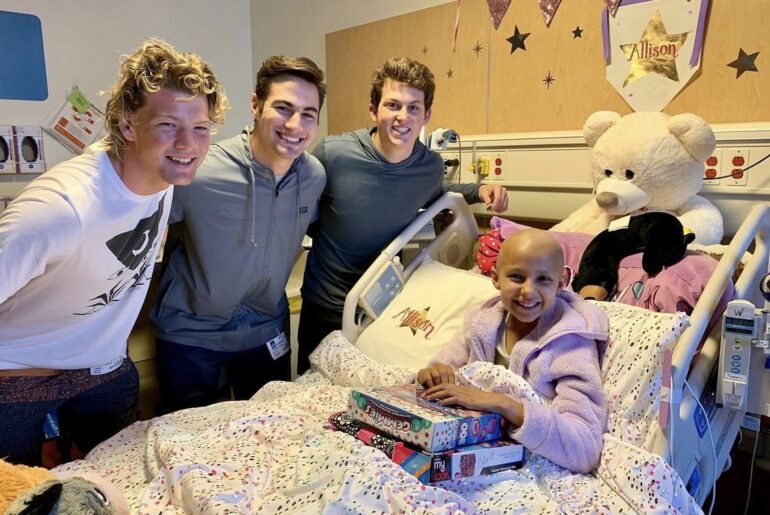 Charity Matters: Tell us what success you have had and the impact of Once Upon a Room?
Sienna Dancsecs:  In terms of impact, we started in one hospital at CHLA in Southern California. Since we began we're now in 12 hospitals across the country. We have had three new people and new states and new hospitals reach out in the past five days, about opening.  It continues to grow, we've done over 4000 rooms.
  I also think one of the things when it comes to impact is the impact we have on the kids and their families with their hospitals days and medical journeys. More than that we have such an impact on the volunteers, the hospital staff, and our donors.  I have had friends that have come to the hospital to volunteer, in high school and college, not knowing what they want to do when they grow up and leave saying, "Oh, I know, I want to be a nurse or I want to be a child by specialists." One volunteer is now working in the foster care system because she met people through her work with us at the hospital. So I think it's everybody around that really is affected by it, not just the patient or family. It's everybody involved.
Charity Matters: How has this journey changed you?
Jenny Hull:  I've definitely learned so much about human compassion. To walk into rooms and the life lessons that we've just learned from our patients.  Watching their journeys being able to sympathize and empathize with what they're going through and just to look at the world with such love, and try to figure it out.  There are people you walk by every single day that you just know are fighting some battle. It's how to appreciate the people you are asked to be with on a daily basis. The greatest gift I've been blessed with of all the people we've been surrounded with, Josie and Sienna. Literally, truly the best gift we could have ever asked for. So, gosh, I've learned so much and I'm so incredibly grateful that we've been led down this road. You know, we didn't we didn't pick it. It picked us.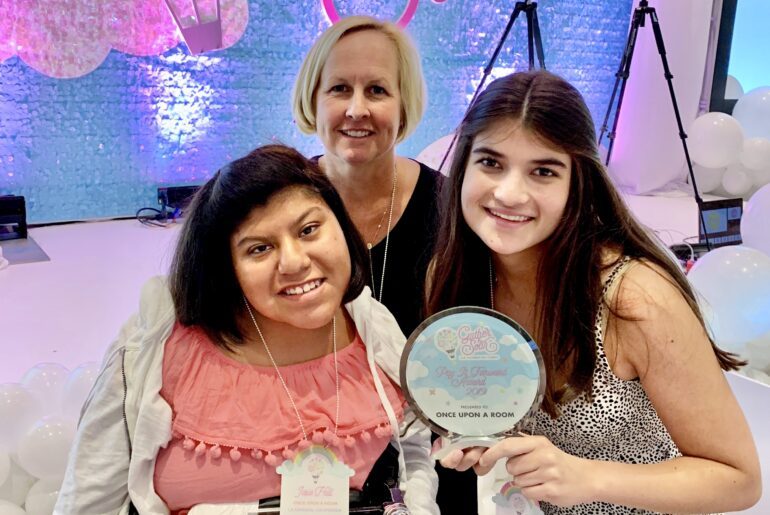 Charity Matters: What life lessons have you learned from this experience?
Sienna Dancsecs:  I learned a lot about the business of nonprofits and how all these things work. Walking into kids' rooms, every day who were super sick, or they were at the end of life made me realize how lucky I am just to be healthy.  I think it's something that we all take for granted. So that's something that I quickly learned,  talking to these kids, watching them fight for their lives, watching them lose their battles to cancer, it was really hard to watch. But it made me so grateful for everything that I have.
It also taught me from a young age, how important it is to give back and to help other people. I feel like it's a really great gift that I got from Jenny and Josie that I learned that this was something that made me feel so good and made me feel like I was doing something to help other people. And it's something that I continue to do. I know, I'll take it with me wherever I go. Prioritizing, helping other people giving back, brightening somebody's day, even if it's something small. You never know what kind of difference that you can make.
CHARITY MATTERS.
New episodes are released every Wednesday!  If you enjoyed today's episode, please connect with us:
On IG @Charitymatters 
Post a screenshot & key takeaway on your IG story and tag me @heidijohnsonoffical and @Charitymatters so we can repost you.
Leave a positive review on Apple Podcasts
Subscribe to new episodes each week!
YOUR REFERRAL IS THE GREATEST COMPLIMENT,  IF YOU ARE SO MOVED OR INSPIRED, WE WOULD LOVE YOU TO SHARE AND INSPIRE ANOTHER.
Copyright © 2021 Charity Matters. This article may not be reproduced without explicit written permission; if you are not reading this in your newsreader, the site you are viewing is illegally infringing our copyright. We would be grateful if you contact us.