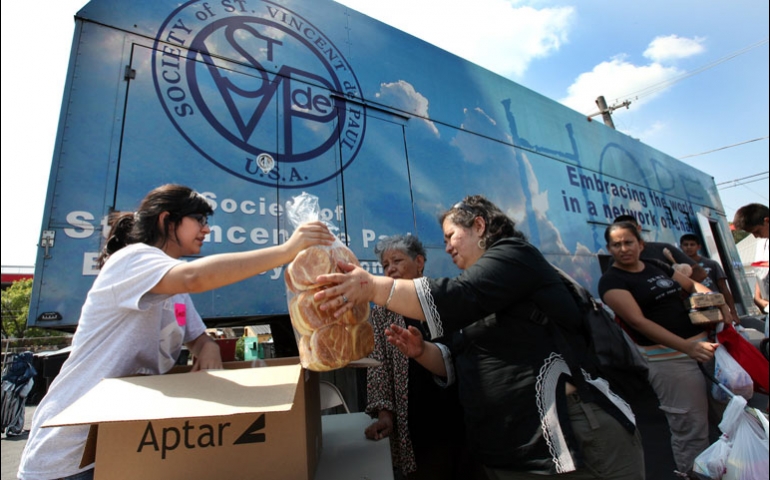 We have begun our spring cleaning. No, not with mops and brooms but rather clearing out closets, drawers, garages of unwanted, unused and unnecessary possessions. Luckily for me, I was inspired by recent visit to the Los Angeles Chapter of The St. Vincent de Paul Society.
Time and again, I have cleared out my closets and driven to the Goodwill….and am embarrassed to say that I am not sure what it is exactly they do with my things? One of my earliest childhood memories was of the St. Vincent de Paul truck pulling up for our used donations.  Over the holidays, I met the Executive Director of the LA Chapter, and he invited me down to see what exactly it is that they do and trust me, it is so much more than a truck!
On my visit I learned the history of this amazing organization, which was founded in Paris in 1833 by a compassionate college student named Frederic Ozanam. He was challenged by the poverty he saw on the streets and organized a "Conference of Charity" to help the poor of all religions. Frederic wanted to create an avenue that assisted people to express their faith and grow spiritually through acts of charity. My kind of guy.
For over 100 years, SVDP has been serving the needy throughout the United States. The Society, as its called, is able to help provide the needy to become self sufficient by providing emotional and financial support, food, clothing, furniture and housing because of donations both financial and household. Many of the household items are passed on directly to someone in need.
Today, the Society, is an international volunteer organization with over 1,000,000 members in 142 countries and continues its founder's mission to "seek and find the forgotten, the suffering or the deprived."
So, as you start your spring cleaning, remember how much good your unneeded items are for another.
Charity Matters.
Copyright © 2015 Charity Matters. This article may not be reproduced without explicit written permission; if you are not reading this in your newsreader, the site you are viewing is illegally infringing our copyright. We would be grateful if you contact us.