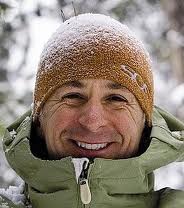 Since this week finds me in Colorado looking at colleges and making a few glorious turns on that magical white powder I wanted to share the amazing story of one snow boarder who has created change for thousands of underserved kids. Yes, even snow borders can create more than turns.
His name is Arn Menconi and he grew up in a poor neighborhood in Chicago's south side in the 1960's. A trip to Colorado with high school ski club changed everything.  In 1991, Arn moved to Vail, Colorado and decided to replicate his experience for other underserved children by using skiing and snow boarding as the "carrot" to get them going.
In 1993, what started as a way to get underprivileged kids to see the mountaintop turned into a non-profit called SOS Outreach. A non-profit that is much more than skiing and snow boarding but really core values training and mentoring, with a little winter fun mixed in.
SOS teaches courage, discipline, integrity, wisdom, and compassion.  The goal is to keep kids in year-round, multi-year outdoor programs with service projects, peer mentoring, and leadership workshops.
[youtube=http://www.youtube.com/watch?v=p4Or_ooK3L0]
Today SOS Outreach, is the country's largest winter sports based youth developmental agency teaching over 5,000 kids each year at 30 ski resorts with 500 adult volunteers in 15 states.
Arn told Mountain Online, "I started SOS because I saw injustice and wanted kids to have fun. What matters is that something is happening that positively affects the lives of kids growing up in neighborhoods like the South Side, where decades of crime and poverty make it seem like there's no way out; like there are no mountaintops."
You don't need to be a skier or a snow boarder to create change, but simply someone with a passion who cares.  Goodness is everywhere and each encounter I have with a snowboarder this week will remind me that Charity Matters.
Copyright © 2013 Charity Matters. This article may not be reproduced without explicit written permission; if you are not reading this in your newsreader, the site you are viewing is illegally infringing our copyright. We would be grateful if you contact us.