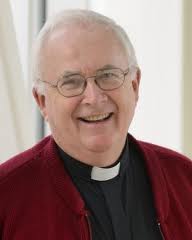 Last weekend I hosted an event for a board I am on and a cause that is near and dear to me. The cause is Verbum Dei High School which is a part of an incredible network of schools that is transforming urban America and our inner cities.
A few years ago I had the good fortune to have lunch the founder of Cristo Rey, Father John Foley. He is an amazing man and his story is remarkable and defitiitly worth re-telling.
In 1995, Father Foley was living in Peru working with the poor when he was asked to return home to Chicago by his Jesuit Provincial.  The Provincial wanted Father Foley to use his 34 years experience educating the poor in Peru to help educate the underprivileged Hispanic neighborhood of Pilsen in Chicago. Their request was to create a college prep high school and the challenge was how and with what funds?
Not to be stopped by something like money, Father Foley met with an "out of the box guy" where they brainstormed solutions to what seemed like an impossible challenge. The result was simple and brilliant. The students would work one day a week in an entry-level job at a company that would basically underwrite their tuition costs.
After going door to door visiting old students and friends and asking them to sponsor a student with a job. Father Foley told me, " I had more jobs than students and thought, I think this just might work." The following year he opened the first Cristo Rey Jesuit High School.
In fact, the Corporate Work Study Program worked so well, that in 2001 Father Foley was approached by groups in Portland, Denver and Los Angeles about taking his business model and duplicating it in other disadvantaged communities across the country. The result was the creation of the Cristo Rey Network of Schools, which became a non-profit in 2003.
Father Foley's mission has now educated over 7,400 students in 25 schools with 100% of the students going to college. Today, after seeing these amazing results of what a job and an education can do for a student, foundations and corporations are getting behind The Cristo Rey Network in the hopes of doubling their efforts with an additional 25 schools.
Did Father Foley ever dream that this brilliant simple idea would positively impact thousands of students? His response, "No, I just did what I was asked to do."
Charity Matters.
Copyright © 2012 Charity Matters. This article may not be reproduced without explicit written permission; if you are not reading this in your newsreader, the site you are viewing is illegally infringing our copyright. We would be grateful if you contact us.