Welcome to Season Three of the Charity Matters Podcast! We are so excited to introduce you to another incredible season filled with amazing heroes. Today's guests are the perfect way to dive into this new season. As a lifelong recreational scuba diver, I know how scared I am every time I enter the water. So many things are out of my control, the fear of not being able to breathe followed by the peace, stillness, and beauty of the ocean. Overcoming that fear every time leaves me feeling recharged and accomplished. So when I heard about the nonprofit Diveheart.org that works with people with disabilities to live better lives, I knew they were the perfect organization to launch Season Three of our podcast. So let's dive in!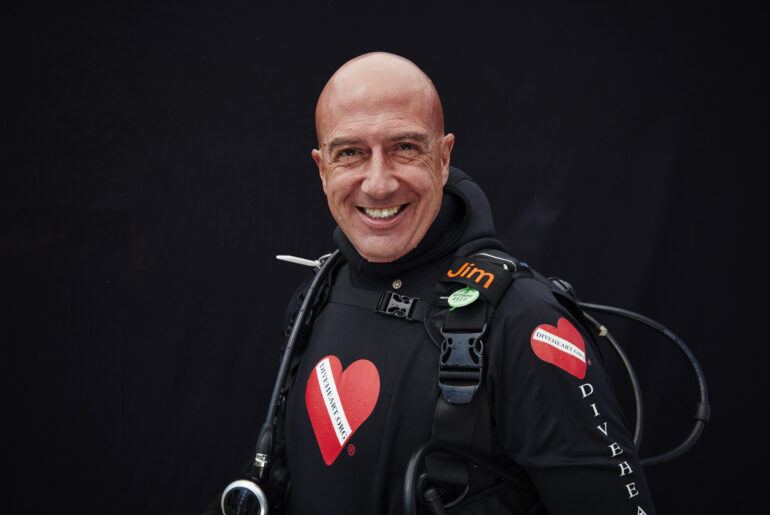 We are so excited to introduce you to Jim Elliot the Founder of Diveheart.org and their Executive Director, Tinamarie Hernandez. Join us for a fun and inspirational conversation about what can happen with a positive can-do attitude, a scuba tank, a body of water, and a passion for making people's lives better. You won't want to miss this one!

Here are a few highlights from our conversation:
Charity Matters: Tell us a little about what Diveheart does?
Tinamarie Hernandez: Diveheart is an organization that works with people with disabilities, physical and cognitive. We're also a training agency for people who want to work safely with people with disabilities in the water. And we use scuba diving as a therapy.
So we start people in a pool, we get them to where they're comfortable.  We see a lot of stuff, self-improvement in the people that we work with. They get the confidence and a renewed vigor of life. Some of the people we work with might have been in an accident. We also work with people who've dealt with their condition their entire life.
And it's one of those moments where they're like, I'm getting a win, this is a winning day for me. And that's something I tell parents and family members, you know because they're nervous. I guarantee your loved one is going to leave with a win today. They're going to be proud of themselves for something. So that's what we do, we don't cure ailments. What we do is help people live a better life.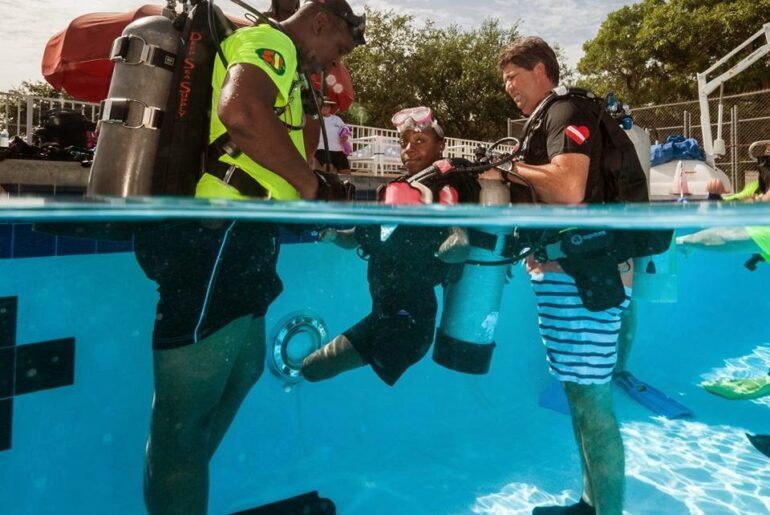 Charity Matters: What was the moment you knew you needed to act and start Diveheart?
Jim Elliot: I'm a media guy by trade. I'm a journalist. I took diving because I thought if I ever meet someone like Jacques Cousteau, I better know how to scuba dive.  I had a burning desire to learn how to dive and fell in love with it. As you know, it's a great equalizer. It's like being an astronaut in inner space. It's amazing.
So during the 80s, I was in the media business and helped startup a TV station. I was also on these nonprofit organizations' boards. And in the mid-80s, I started guiding and teaching blind skiers because my eldest daughter is blind.  I saw how that helped people and said, "You know, you can only ski at certain times of the year in certain places in the world, but there's a pool in every community. So what if I were to do what I've been doing for decades in skiing, and taking people out of wheelchairs and putting them in the water and having them fly, learn to be an astronaut." And that was kind of the premise of the whole idea. That was 2001 that we incorporated and this is our 20th anniversary.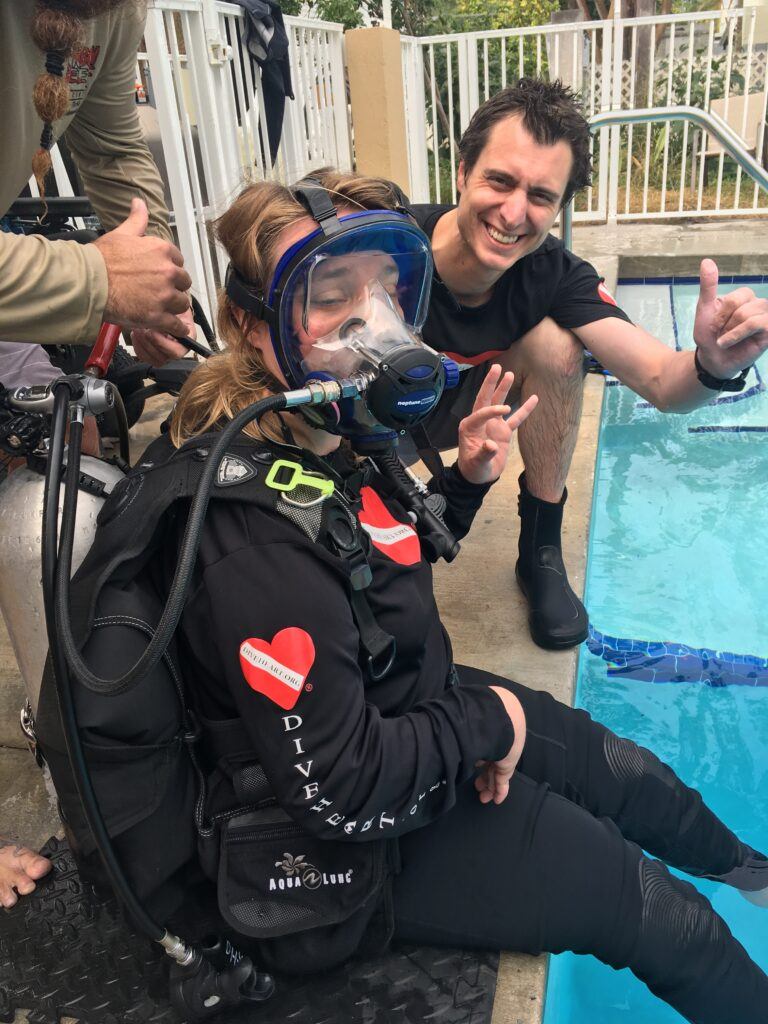 Charity Matters: What are your biggest challenges?
Tinamarie Hernandez: The challenges are to evolve and to keep our finger on the pulse of what is changing. As a nonprofit that needs help with funding, all of our pool programs are free. So we need people to give us  99% of the money that we need to help us run our programs.  It's about getting the word out and letting them know that, yes, you're giving us money so that we can help people in the pool because even though it's free for them, it's not always free for us.  So that's a challenge to keep going. 
Jim Elliot: We have a documentary called TurningPpoint that was done and airs on PBS every now and then. And we had somebody from Southern California call us and say, "You know, my husband and I watched turning point last night and we cried, where do we send a cheque?" Five years later, that donation (knock on wood )has increased every year. We just make sure she knows everything, all the good stuff that we're doing. So she knows that her investment or donation is going places.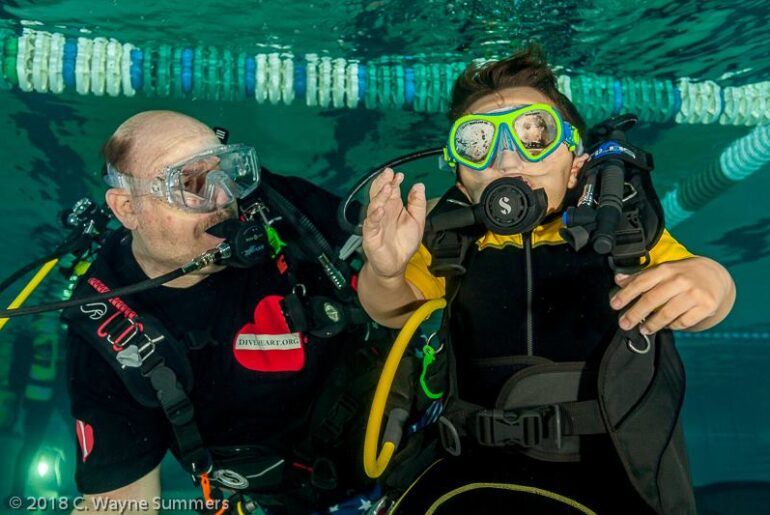 Charity Matters: Tell us what success you have had and what your impact has been? 
Tinamarie Hernandez: We have one particular individual with who we've been working with her since she was three months past her very life-changing. accident.  She's now a complete quadriplegic and was injured at 19. You don't know what you're going to do with your life at 19, right? But when we met her she was still in her anger phase, which is understandable. She was a very decorated athlete before this accident.
This last week, she announced that she is going to finish her degree. I can't say Diveheart did all the work. We didn't but we helped get her that spark. I know we did. She's worked with us and her whole life has changed. She's been inspiring people with disabilities to get certified. They're like, well, wow, I didn't want to get certified or get in the water until I saw her.
Seeing this young woman coming up out of the water with a smile on her face with her energy makes others think, " Maybe I am missing out on something." Those are the impact moments. I can't measure that impact. That person's life is better. I know and I hope we can reach as many people as we can. 

Charity Matters: When do you know you have made a difference?
Jim Elliot: I think you hit the nail right on the head when you said ripple effect. Because what we do, and what's really cool about what we do is that it can happen so fast.  The first pool session can be so powerful because it's not natural to breathe underwater. It happens to everybody that puts their face in the water and breathes it off that tank. And it changes the way they think and the way they really experience life.
We like to do to say that we take the unrealized human potential, and we create a paradigm shift. So now it's not Johnny in a wheelchair, it's Johnny, the scuba diver. Then what we do is, once they have this new identity, we point them towards being a good steward of the environment.  You know, get into marine biology or just be a helper and do good in the world. Then we try to help them go in that direction. In turn, they inspire people around them, like you said, the ripple effect. And this girl that Tina was talking about. She came to us and said, "You changed my daughter's life. Thank you so much. "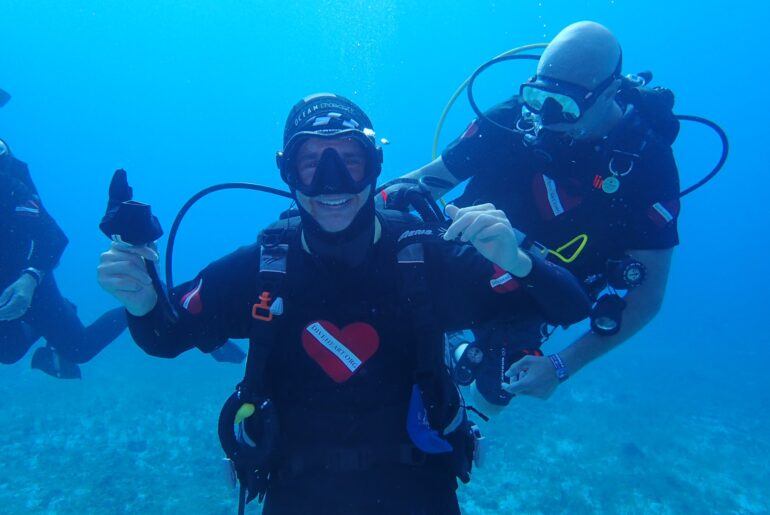 Charity Matters: What life lessons have you learned from this experience?
Jim Elliot: One of the things that keep us going and able to adapt is when we are hit with an obstacle.  We take lemons and make lemonade, basically. What action do we take, that's going to really be meaningful at this moment? Where we can just stay with it and then persevere, take that obstacle and turn it around. And we've been successful doing that many times. As the book says, the obstacle is the way.
CHARITY MATTERS.
New episodes are released every Wednesday!  If you enjoyed today's episode, please connect with us:
On IG @Charitymatters 
Post a screenshot & key takeaway on your IG story and tag me @heidijohnsonoffical and @Charitymatters so we can repost you.
Leave a positive review on Apple Podcasts
Subscribe to new episodes each week!
YOUR REFERRAL IS THE GREATEST COMPLIMENT,  IF YOU ARE SO MOVED OR INSPIRED, WE WOULD LOVE YOU TO SHARE AND INSPIRE ANOTHER.
Copyright © 2022 Charity Matters. This article may not be reproduced without explicit written permission; if you are not reading this in your newsreader, the site you are viewing is illegally infringing our copyright. We would be grateful if you contact us.