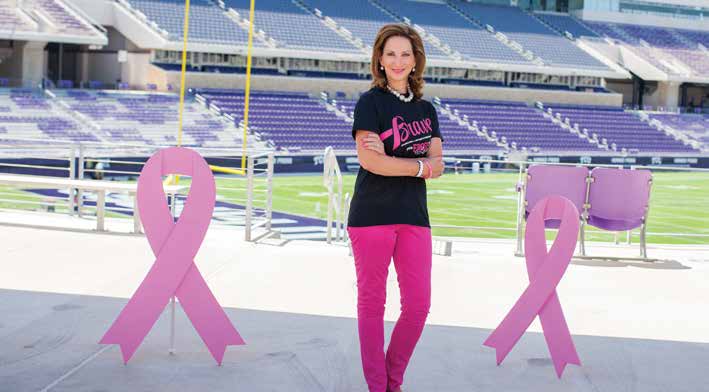 As you know I have been thinking a lot about dreaming big and continuing on my quest living a life full of purpose. When I think about the combination of these two together, my mind immediately goes to thoughts of my amazing friend, Ann Louden. Ann is a breast cancer survivor who took her diagnosis and turned it into a purpose fueled mission. The result is her non-profit TCU Frogs for the Cure.
Ann has worked at TCU for over twenty years and over a decade ago when she heard the words, "You have cancer" she knew she needed to do something. As the ultimate connector, she engaged her Fort Worth and TCU community in finding a cure, supporting those with breast cancer and partnering to support the cross town organization Susan G. Komen Foundation.
Her organization was the first to engage college football with breast cancer and now today you can't tun on a game in October (pro or college) without seeing pink, it all started with Ann. However that dream wasn't big enough, she went further in creating inspiring music videos with thousands of survivors to bring everyone together in support for this cause. When the videos are downloaded from itunes, the proceeds go to fight breast cancer.
This years video will debut at the Thursday, Oct 29th at the  TCU football game vs West Virginia and is aptly done to the song,"Ain't No Mountain High Enough."   I cannot think of  a better song to describe Ann Louden and all breast cancer survivors journey to overcome and fight this disease.
Charity Matters.
Copyright © 2015 Charity Matters. This article may not be reproduced without explicit written permission; if you are not reading this in your newsreader, the site you are viewing is illegally infringing our copyright. We would be grateful if you contact us.