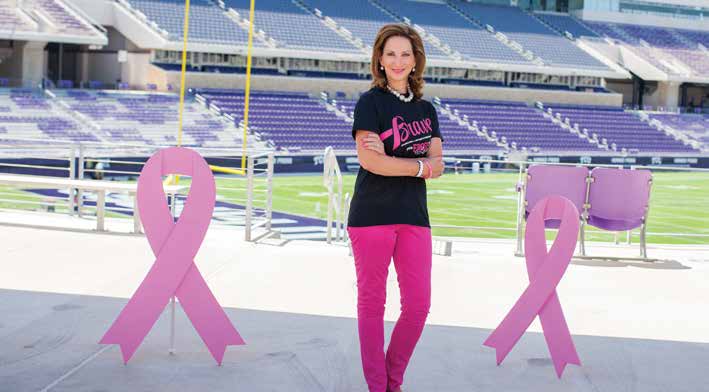 The main reason that I ended up in Texas last week was because of a remarkable woman named Ann Louden. You may recall that I met Ann through Charity Matters a few months back when she came to Pasadena to film a video at the Rose Bowl for her non-profit, TCU Frogs For a Cure.  She is dynamic, compassionate and determined to eradicate breast cancer.  She is a woman on a mission and she has the state of Texas cheering her on. It is no wonder that Texas is the home of The Susan G. Komen Foundation because these women make change happen.
The official video will be debuted later this month at the TCU Frogs for a Cure benefit with Former First Lady, Laura Bush.  I wanted to share a little piece of Ann's story and passion because it is the story of thousands of women across this country.

Ann is a role model of what being Brave is all about and her passion is contagious. She has taken adversity and turned it into inspiration. As TCU Frogs for a Cure celebrates their 10 year anniversary, I am inspired by the continuing message of hope they bring to so many truly brave women.
Charity Matters.
Copyright © 2014 Charity Matters. This article may not be reproduced without explicit written permission; if you are not reading this in your newsreader, the site you are viewing is illegally infringing our copyright. We would be grateful if you contact us.