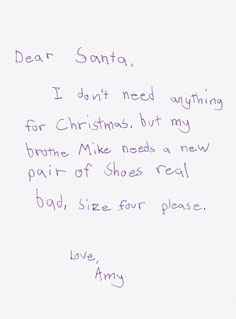 On monday , I talked about the US Post offices 100-year-old program called Operation Santa. Well one volunteer "elf", Patrick Reynolds, was so inspired by his experience with the program that he decided to help promote the cause with Be An Elf. Org.
On Christmas Eve, 2004, Patrick delivered gifts through Operation Santa to needy families.  He was so moved by the experience that he set up Be An Elf.Org to bring more attention to the post offices program. Patrick wondered why he not heard of the USPS program? So he decided to use his time and talent to bring more attention to a cause he cared about.
"I was moved by the surprise and delight on children's faces. I thought more people should know about the Letters to Santa / Operation Santa program,"  Patrick said. Within a few days, he got the idea to form a new group, which became Be An Elf.
[youtube=http://www.youtube.com/watch?v=yh9jkmfQz-g]
I love this story because it is a true reflection of what Christmas is all about. We all have causes that we care about, but the Christmas spirit inspired Patrick to action.  He in turn inspires each of us to reach out to help a child in need and reminds us what the season is all about.

Charity Matters.
Copyright © 2012 Charity Matters. This article may not be reproduced without explicit written permission; if you are not reading this in your newsreader, the site you are viewing is illegally infringing our copyright. We would be grateful if you contact us.